The percentage of bicycle commuters in Tucson declined slightly from 3 percent in 2010 t0 2.8 percent in 2011.
The slight dip is according to American Community Survey data that was released last week.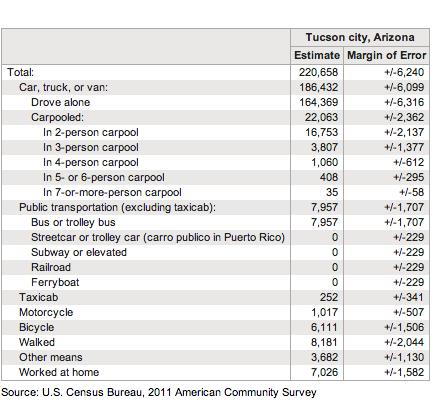 Additionally, Tucson has the seventh-highest bicycle commuting share of large American cities, dropping from the sixth spot last year. (See the list below)
It is important to remember that the ACS only interviews a fraction of the people in the community and asks very few questions about transportation.
The ACS asks respondents how they got to work most often in the last week. Meaning if a person drove three days a week and rode two, their bike use would not appear in the survey.
In 2010, the percentage of bike commuters lept from 1.9 persent in 2009 to 3 percent. City planners say the year-to-year changes are less important than the trends over time.
The ACS does not ask about recreational riding.
Below are the Top 10 large cities by bicycle commuter share:
1. Portland: 6.3%
2. Seattle: 3.5%
3. Minneapolis: 3.4%
4. San Francisco: 3.4%
5. Washington: 3.2%
6. Oakland: 3.1%
7. Tucson: 2.8%
8. Denver: 2.4%
9. New Orleans: 2.3%
10. Sacramento: 2.2%