Tucson Stefan Walz has been dreaming of doing a book project that captures the cycling scene in Tucson since his last year of art school at the UA.
Now he is teaming up with professional photographer and friend Chris Mooney to make a it a reality.
Walz said the planned publication date is January 2012.
Here is a quick Q&A I did with Walz about the book:
Tell me about the book? How did you come up with the idea?
The book is a photographic collection of cyclists and the cycling scene in Tucson. The idea is to capture the people, places and things in Tucson that define the bike community. It originated during my final year of art school (at the University of Arizona). Many of my school projects were centered around bikes and/or cycling. I wanted to do a book project for my senior project, but didn't have the time or resources. After graduation I contacted Chris Mooney, a professional photographer in Tucson and a good friend. With his camera eye and my design background we began scheduling a cyclist every other week, whether it's in the studio or on location. At each session we ask the person who they think would be a good candidate for the book and that's been a steadily growing list from day one.
Who will be included?
Like I said the people, places and things that define Tucson cycling. There are many names and faces that will be familiar to local folks when they crack open the book.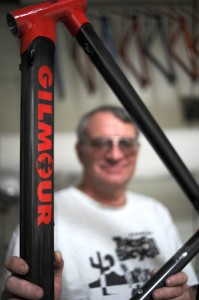 Tell me about your connection to cycling in Tucson?
I've been riding my bike in Tucson since 1997. I've had several bikes stolen, a few of them broken. I love commuting by bike, I've raced triathlons, tried mountain biking, still ride my road bike and have a vintage twin schwinn tandem that I enjoy tooling around downtown. I don't claim to be an expert on any of them, but I always enjoy riding my bike in the Old Pueblo.
Anything else you would like to include?
Yes. If you think you're worthy of being in the book, or know some one that MUST be included in the book please contact me:
beasley90-at-hotmail[dot]com