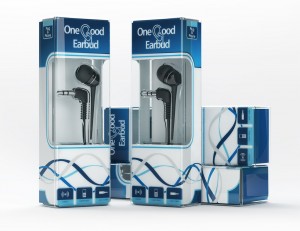 When Marana cyclist Kevin Goldstein started riding four years ago, he refused to wear earphones in his ears because of safety concerns. Eventually he got bored on his bike and began plugging one earphone into his ear and letting the other dangle. That annoyed him, though.
"It irritated me because half the sound goes away," Goldstein said. "I thought, someone out there has to have mixed the channels together."
No one had and he saw an opportunity. One Good Earbud was born.
He started selling the earbuds — which come in three different models — in March 2010 and has sold more than 1,000 of them since then.
Goldstein said all the sales were through his online site, but said he is working on retail packaging to start selling them in bike shops.
It isn't just cyclists who are purchasing the earbuds. Many of his sales are coming from runners who want to listen to music but be aware of their surroundings.
Sean Lynch was given one of the earbuds as a gift and said he said he likes using them because they allow him to remain alert and speak with other people when they are running together.
New York City runner and cyclist Jason Lambert said it isn't the safest thing to run or ride with earphones in both ears so the One Good Earbud is a good option. He said the music quality is a lot better too.
"Using one regular headphone is annoying because there's always either too much bass or treble," Lambert said.
The safety issue is something that prompts a lot of people to purchase the earbud.
"I think there are people on all different sides of this issue," Goldstein said. "Some people think you are absolutely insane if if you listen to any music while you are riding your bike because you have to have 100 percent of your attention focused solely on what is going on around you."
Goldstein said he feels better having one ear open, but doesn't really come down on one side of the safety issue or another.
"I'm not here to try and convince people that there is a safety issue or isn't a safety issue with running or cycling with or without earbuds in your ears," he said. "If you think that there is a safety issue and you want to have this choice to listen in one ear and keep one ear open then I have got a product for you."
There is one group for which safety wasn't an issue.
"Aside from runners and cyclists where I have gotten the biggest support for the product is from the single sided deaf community," Goldstein said. "Although, they are kind of hard to lock down and market to, they have kind of found me. People who are deaf in one ear love these things. They want to listen too, but they don't want to miss half their music."
Goldstein said more goes into the earbud than just crossing the two audio tracks into one earbud. He said when you do that it produces popping, hissing and other nasty noises. Goldstein said he added circuitry to the plug to adjust the levels and eliminate the noises and allowing both left and right channels to be mixed together.
Goldstein is working on expanding his business so that he can do it full time.
"It has always been a dream of mine for a long time to have something that is more cycling-centric," he said.
Check out all the models on the One Good Earbud website. Models range from $19.95 to $26.95.