When drivers pass cyclists on Tucson streets, they may be passing Tucson police bicycle officers and not even know it.
Tucson bicycle patrol officers are participating in a specialized enforcement of bicycle and pedestrian laws. The increased enforcement is thanks to a grant given to TPD.
The bicycle officers dress in street clothes and have removed all the markings from their police bicycles in order to blend in.
Bicycle patrol officer Flores said drivers pay a lot less attention to them when they aren't in their uniforms.
The bicycle officers work in conjunction with an unmarked car, which pulls over any drivers who violate the 3-foot law.
On Wednesday the officers rode around the Fourth Avenue area looking for drivers who passed too closely. No one was cited for passing too closely, but one driver was pulled over for tailgating and weaving behind the unmarked police car.
After riding around Fourth Avenue, the officers moved to the pedestrian signal at Broadway and Park, looking for drivers who don't stop at the pedestrian crossing.
They stopped one driver and one cyclist who didn't stop at the crosswalk while the light was red.
The driver was on his cell phone and didn't slow down. He said he didn't see that the light was red.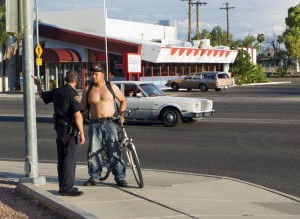 TPD Detective Pete George, who was driving the unmarked car, said the officers would keep trying to catch drivers who don't pass cyclists safely.
They planned to ride the section of Speedway between Stone and Euclid, but ran out of time. They'll go back to that area because they think the lack of bike lanes and crowded roads might make it more likely drivers wouldn't give cyclists enough room.
The officers also expressed an interest in hearing where Tucson cyclists think would be a good spot for them to set up. Any ideas? Leave a comment and let us know where you think would be a good spot.