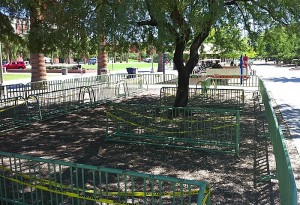 The University of Arizona is on the verge of opening a bicycle valet service for students, employees and guests.
According to Bill Davidson, the UA Parking and Transportation Services marketing manager, they had hoped to open it on the first day of classes but still have a few minor details to finalize. Davidson said the valet would be open within two weeks.
The bike valet corral, which consists of dozens of racks surrounded by metal barriers, is located on the southwest corner of the UA mall near the Nugent building.
"We wanted to make it high profile so everyone knows about it," Davidson said.
The valet service will be open from 7 a.m. to 7 p.m. Monday through Friday and will cost fifty cents per day. The Parking and Transportation Services department will sell punch cards so cyclists won't have to pay each day.
Using the valet four times a week for the 16 weeks of a semester would cost $32. Renting a bicycle enclosure through the UA is $35 for the year. A private bike locker is $90 yearly.
Davidson said they decided to charge fifty cents to help offset the cost of setting up the program and hiring employees to work at the valet station.
One student employee will check-in the bikes and give the customer a receipt to pick up the bike. The second employee, who is a full time Parking and Transportation Services enforcement officer, will take the bike into the station and ensure the bikes are secure.
Davidson said they will add employees if there is enough demand for the valet. He said they will also consider other locations on campus for additional valet stations.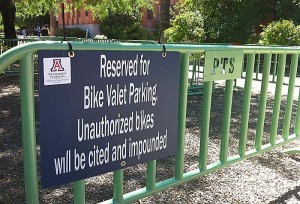 Davidson said they created the valet program as another way to curb bike theft and encourage people to ride their bikes to campus rather than driving.
"Originally the thought was that bike theft is an issue and we want to try to do something to solve that problem," Davidson said.  "We have the lockers and enclosures, but we were looking for something a bit more convenient and something that you didn't have to lock yourself into for a whole semester or year."
Bikes that are left at the valet station past the 7 p.m. closing time will be taken to the nearest bike enclosure and stored until the valet station opens the next morning.
What do you think? Would you use it?