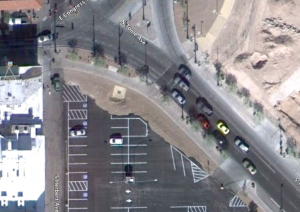 The police report outlining the crash that killed Dennis McKinney, a 47-year-old motorized bike rider, says that the trolley tracks caused him to lose control of his bike and fall into the path of Chevrolet work truck.
According to an off-duty police officer who witnessed the accident, McKinney had successfully crossed the right trolley track and was attempting to cross the left when he fell into the path of the truck:
Off-duty Officer Zinn passed both subjects in his vehicle while traveling in the median lane. Between the bike lane and the curb lane there are built in trolley tracks for the downtown trolley system. At 4th Avenue, the bike lane would turn north and/or west  (to continue westbound on Congress) In order to continue westbound cyclists have to merge slightly and cross the tracks that are traveling  parallel to their lane.
Officer Zinn advised that as he passed, he observed McKinney cross one track (so he was now traveling between the tracks). Once Officer Zinn was beyond the (driver) and McKinney he looked in his rear view mirror and saw McKinney fall as he attempted to cross the second track. McKinney fell into the curb lane, and in front of (the driver's) work truck
The off-duty officer said in the report that he noticed "disturbed" dirt between the track and concrete.
"I did observe dirt that was disturbed between the track and the surrounding concrete near a bandanna that was laying in the roadway and deduced that this was probably the point where Mr. McKinney lost control of his cycle," the report said.
The driver, who was driving on a suspended license from a previous DUI, said in the report that he was driving behind McKinney between 25 and 30 miles per hour.
According to the report, the driver tried to pass McKinney when "he slipped." The driver said he thought the bike's tire got caught in the tracks, which caused him to fall.
"(The driver) said he felt his truck drive over what he thought was the bicycle and looked back to see the bicycle burning," the report said.
According the report, after learning that the trolley tracks may have been involved, the detective left a message for Joel Peterson, the head of the city's risk management department.
Here is video from the intersection: