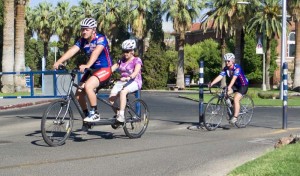 Nineteen visually impaired teens spent Saturday morning zipping around the campus of the University or Arizona on tandem bikes.
The ride was part of the Southern Arizona Association for the Visually Impaired's camp to teach teens real-life skills.
Saturday's focus was on physical activity, which Scott Hurlburt, SAAVI's public relations director said is something that often gets overlooked in the visually impaired community. He said a lot of visually impaired people neglect their physical health.
Camper Chris Escarrega said it is important to him to stay active and healthy.
"If you stay fit, you can do so much more and you look good too," Escarrega said.
The program to get the teens on bikes started a few years ago when Hurlburt approached his riding partners on the Jim Click Racing Team and asked them to pilot the tandems.
Chris Potter, who piloted one of the tandems, said he enjoys being a part of the camp.
"It is great interacting with kids that have such an eagerness to get out and ride," Potter said. "Hearing their excitement seeing the excitement on their faces is a good feeling."
Lauren Andera said she has ridden on a tandem before with her sister, but it was more fun this time because she didn't have to worry about keeping the bike upright.
Andera said she bounces on a yoga ball to get her heart rate up, but said she'd like to try biking more.
Potter said once the teens gained trust in the pilots they start wanting to go faster.
"I think there is a little anxiousness when they first get on," Potter said.  "They are not sure about the balance, they are not sure how it is going to be not being able to steer. Once they get that trust they start saying, 'faster, faster.'"
Escarrega said he had such a great time riding the bike, he wished everyone could get the same chance he got to try it out.