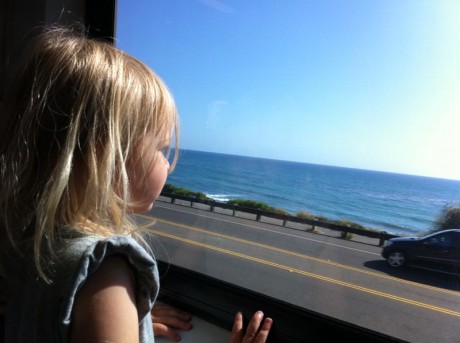 My family and I returned from nine days in the San Diego area this Saturday. I brought back a lot of photos and a serious amount of envy.
Given all the bike infrastructure and facilities we have in Tucson, I'm not at all envious about the facilities or lack thereof in Southern California. The weather and the view are pretty amazing, however.
What I am really envious of though, is their public transportation network. They have an interconnected system of trains, buses and trolleys that made it incredibly easy for us to get around the area without using a car for many of the trips we took.
We utilized the Coaster train each of the three times we ventured out using public transportation. The Coaster runs from Oceanside, where we were staying to Downtown San Diego. It stops at several locations along the coast.
The first time we used it, we walked to the train station in Oceanside and rode it to Solana Beach to check out a farmer's market, have lunch, shop and play on the beach. We hopped on a return train several hours later. It was a Sunday so the trains were scheduled farther apart.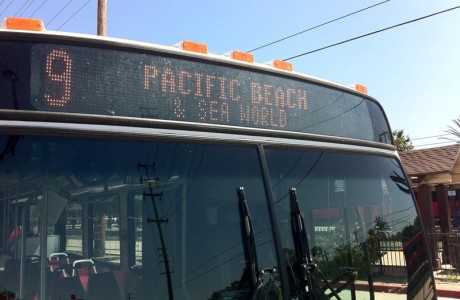 The next time were going from Oceanside to Sea World. This time we took Coaster from Oceanside to the Old Town Transit Center in San Diego and then transferred to a bus, which took us right to Sea World's front gates. We did the reverse when we were finished at Sea World, stopping in Old Town San Diego for a bite to eat before returning to Oceanside on the train.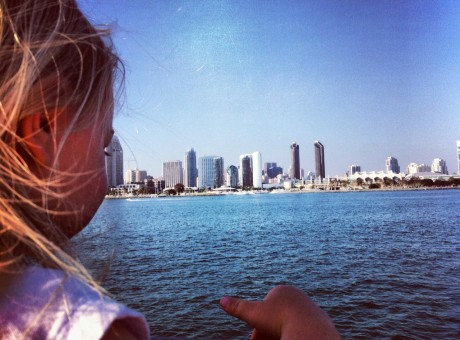 The last day, we took the Coaster from Oceanside to the Santa Fe Transit Center in downtown San Diego to check out the USS Midway. From there, we hopped on a ferry to take us to Coronado Island and back again. We had a bite to eat and then hopped on the last train back to Oceanside.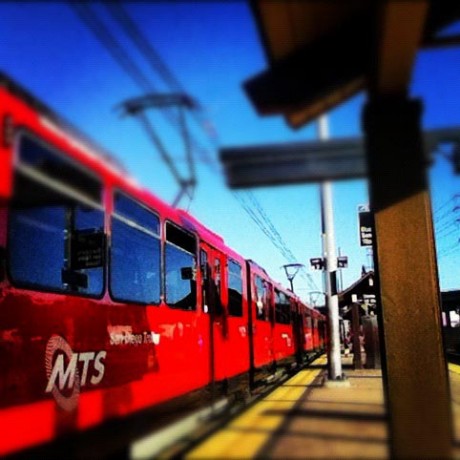 We didn't get a chance to use the trolley which serves San Diego, but saw it operating in many of the areas where we were.
It was a little strange for me using public transportation however. Because I always have a bike I can leave whenever I want or need to, but public transportation doesn't always afford that option.
It was both relaxing and stressful to use the trains. It was great not having to fight with traffic or pay for parking at places like Sea World. The downside is that I would stress about making the train in time. Particularly with the train from San Diego, which was the last train of the night, I stressed out about making it on board.
The trains seem to be the real piece of the puzzle that make the transportation network useful for the people who live outside of San Diego.
The really cool thing about the network in San Diego is how well bikes fit into the equation. On the trains there was space for bikes and tons of people were using the train to get north or south and then riding from the train stations. The ferry to Coronado Island also had bike parking and a lot of people were using it.
There is a website that helps people plan their trips in the area based on where they are and where they want to go. Here are the directions we got when we went from Oceanside to Sea World:
FROM: AMTRAK OCEANSIDE
TO:      SEA WORLD
1. walk 0.2 mile SW from AMTRAK OCEANSIDE to Coaster Oceanside Transit Center
2. At 09:22 AM take the COASTER TRAIN signed COASTER San Diego
3. Get off the stop at Coaster Old Town Station at approximately 10:15 AM.
4. At 10:32 AM take the MTS BUS route 9 Pacific Beach via Sea World / Ingraham St
5. Get off the stop on Seaworld at Seaworld at approximately 10:47 AM.
Schedules and maps for your routes
COASTER Information
Bus route 9
In addition to the, Coaster, there is the Sprinter train, which takes an inland route to Escondido. There is also the Amtrak Surfliner, which travels between San Diego and San Luis Obispo. Oceanside is also a stop for the Metro Link train, which travels from Oceanside to Los Angeles and then branches out throughout the LA area.
I wonder what Tucson would look like if there was a train from Oro Valley, Marana to Vail with stops at the University of Arizona, downtown, the airport and Raytheon. What would it look like if there was a train that traveled from Tucson to Phoenix?
The streetcar is a start, and I think more thought needs to go into making cyclists safe around the route, but I am more confident than ever that a 3.9 mile route just isn't enough to make it viable for enough people to really consider using public transportation.
What do you think? Would trains work in Tucson?
In the coming days, I'll post a few photos and observations about bike riding in the area. I have some GoPro footage from the rides we did.