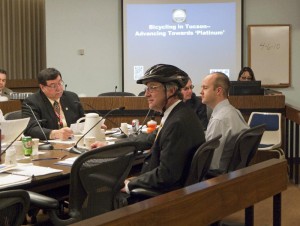 On a day that saw Tucson ranked the ninth friendliest bike city, the City Council heard about what Tucson needs to do to become a League of American Cyclists platinum bicycle friendly community.
City of Tucson Department of Transportation director Jim Glock and Tucson's bicycle and pedestrian coordinator Tom Thivener presented the council with information about the state of cycling in Tucson.
Thivener highlighted the miles of bike lanes and paths, the educational programs the city oversees and upcoming events like Cyclovia Tucson.
While the council was impressed by the infrastructure and programs in place, Thivener said the city needed to do more if they wanted to become a platinum bicycle friendly community.
According to Thivener the League of American Bicyclists said in order to receive platinum, Tucson would have to increase the percentage of people riding bikes, which is currently two percent.
Ward 5 Councilman Richard Fimbres asked what needed to be done to increase the ridership and when the application process would start for the LAB Platinum status.
Thivener said they would begin preparing the application in a year and would submit it two years from now.
As for increasing ridership, Thivener said people had to feel safe and projects that made people feel safer would be the key to increasing ridership in Tucson.
Tucson Pima County Bicycle Advisory Committee president Brian Beck also spoke during the study session.
Beck said that when Lance Armstrong calls your city a cycling mecca, you must be doing something right; but more could be done to help get new riders on the road.
Thivener said he was happy with the meeting.
"I think we are going to find a lot of support for initiatives though [the city council]," Thivener said. "When it comes time to do individual road diets and bike boulevards that they will stick with their support."