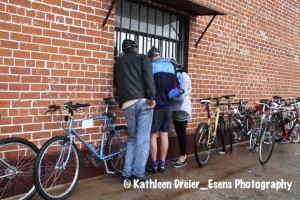 Rain may have kept many people away from the El Grupo Scavenger Hunt on Sunday but according to organizers, the people who turned out had a great, albeit, wet time.
Daniela Diamente, El Grupo's director, said they had more than 100 people — fewer than last year. She said the rain certainly kept a lot of people away.
But people turned out anyway.
"People showed up in pouring down rain and paid the registrations fee," she said. "That shocked me."
Diamente said some groups completed the whole hunt, while others completed a few clues and came back to get warm and dry at Borderlands Brewery.
She said they were "praying that no one got hurt and they came in with a smile."
Diamente said in addition to the smiles, participants came back with maps that were mush because of the rain.
Mary Adkisson said on Facebook that she had a great time.
"We had a ball riding in rivers, down pours and riding the waves made by cars who wanted to soak the cyclists! Thanks, El Grupo. It was a grand time frozen feet and all!"
Diamente said even though there were fewer participants than last year, the pre-registration helped and combined with the GABA Bike Swap they raised over $4,000 this weekend.
Larry Robinson, Greg Yares and Peddler on the Path owner Jaime Arrieta won the hunt.
If you are bummed that rain kept you away (like my family and I who are all recovering from an illness and didn't think being poured on would be a smart idea) you can download the clues and map below to recreate the El Grupo Scavenger hunt on your own.
Check out more images from the hunt here.