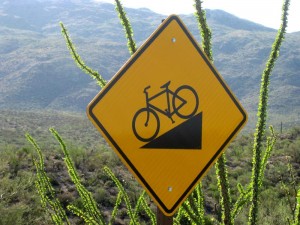 Now that more than 1,000 posts have been published on TucsonVelo.com, there are bound to be a few useful things that you missed or things you have forgotten about.
I've added a page to the bar on the top of the site to keep track of helpful resources published here and to link to other resources that could be of use to you.
If you think something should be included, leave a comment.
Here is the list so far:
Bike map: Find a route using the Tucson region bike map.
Low stress routes around Tucson: How to get from A to B without a lot of traffic
Groceries: How to shop on your bike
Go car light: Tips for ditching the second car
Stolen Bikes: Prevent your bike from being stolen and what to do if it is stolen
Potholes: Get the pothole that makes you batty filled
Detailed UA bike map: Use this bike map to navigate through campus
Riding in the cold: Learn how to stay warm when the temperature drops
Repair your bike: Learn more about the BICAS class that helps you fix your bike
Safety courses: Check out the bike safety course for Tucson youngsters
Please add your own resources to the comment section and keep it Tucson specific.