Echelon's Gran Fondo series is expanding to Tucson.
The Echelon Challenge and Gran Fondo are two separate rides held on May 1. The rides will be Echelon's first major event of 2011.
The rides will raise money for the Arizona Cancer Center, but according to Hunter Ziesing, the executive director of PlanetZ/Echelon Gran Fondo, fund raising is not required to participate.
The Gran Fondo will begin at the UA campus and have a police escort to the base of Mount Lemmon where riders will race to the summit and back. The total distance is 76 miles.
Cyclists who aren't looking for as big a challenge can participate in the Tucson Echelon Challenge, a 1.5-mile loop on the UA mall.
The course will be open for 12 hours and participants will  raise pledges per lap and try to complete as many laps as they can in that 12-hour period.
According to Penny Feddick, the fund raising coordinator for the Tucson ride, there will be a digital board on the mall that will keep a tally of how much money the riders have raised.
The Tucson Echelon Challenge will include bands like the Blue Man Group and food.
Ziesing said the challenge has a "theatrical party atmosphere, great food and entertainment."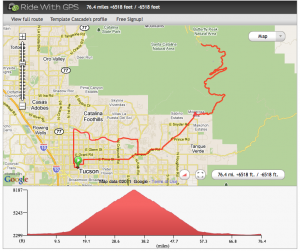 Check out all the details on the Echelon Gran Fondo and Tucson Echelon Challenge website.
The registration fee is dependent upon which ride you participate in and whether you want to raise money.
The Gran Fondo is $15o for riders who don't participate in the fund raising. The challenge is $50.
The Gran Fondo registration for riders who raise $250 in donations is $50 and $25 for cyclists participating in the challenge who raise $125.
Other cities include:
Napa, CA
May 21, 2011
Seattle, WA
July 23, 2011
Fort Collins, CO
August 20-21, 2011
Palo Alto, CA
September 17, 2011
Portland/Hood River
Sept 24, 2011