Editor's note: I rode with several L.A. cyclists on Wednesday night and got a much better idea about what is is like to ride in the city. Check back soon for that story.
I made it to Los Angeles this morning and promptly checked in, unpacked and assembled my steed.
I borrowed a Bike Friday folding bike, which fit into the piece of luggage you see on the left.
I was surprised at how well the bike actually worked. It packed and unpacked fairly easily. I had it ready to ride in less than 20 minutes.
I had hoped to make it to Venice Beach and back before the session started, but didn't quite make it. I was close, though.
Check out the route:
Living in Tucson has certainly spoiled me. I started researching routes last week by checking out L.A.'s bike map.It became clear I would have a difficult time getting around.
I tried Google's "bike there" feature to suggest a route from my hotel to Venice Beach and then verified the route with a few locals on Twitter. The consensus was that the route Google suggested was the best option.
I pushed off from my hotel in downtown L.A. and was immediately faced with a lack of bike infrastructure. Because it was a Sunday, it wasn't too bad, though.
Eventually, I turned onto Venice Boulevard, which is listed as a bicycle route. The first part of Venice Boulevard has a decent amount of space for cyclists and motorists to share the lane effectively. Cars were parked on the right side of the road so riding in the "door zone" was an issue.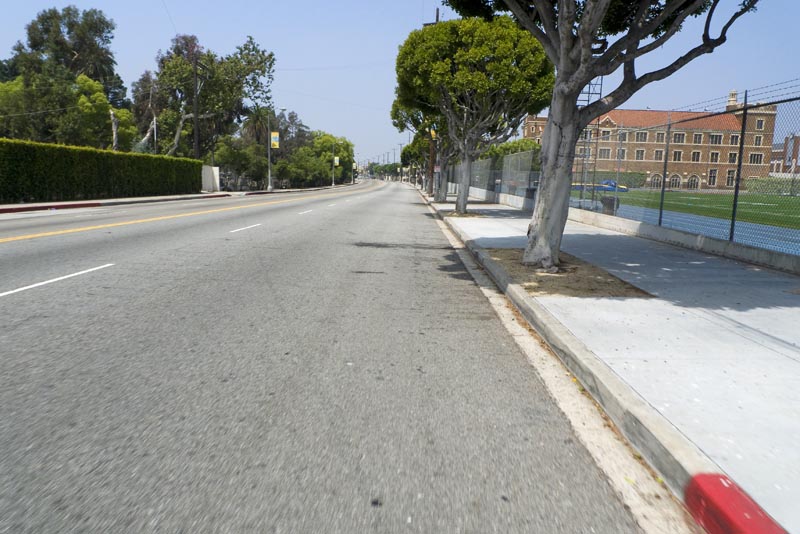 About halfway into the ride, bike lanes appeared. Though the door zone was still an issue in some areas, it wasn't here.
I ran into these two women who were out for a ride. They said they were going to end up doing about 13 miles.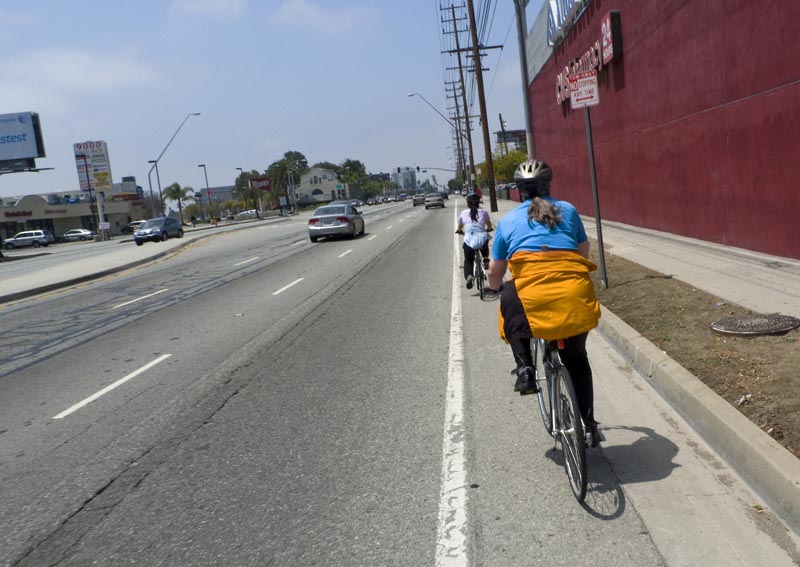 In addition to the pavement markings these posters were on a few utility boxes along the route.
As I kept riding, it became clear I wasn't going to make it to the beach before I needed to turn around. Just as I was about to flip directions, I saw a sidewalk full of bikes. Turns out one of LA's bike co-ops, Bikerowave, was hosting a bike swap. (I'll post a story about Bikerowave tomorrow.)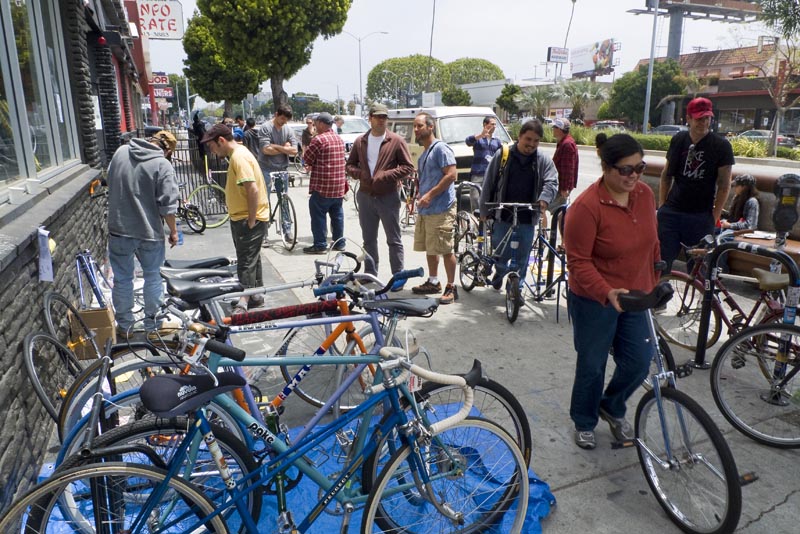 After taking a few photos I started to head back to the hotel to prepare for the opening of the conference. Round trip it was 22 miles. Here are a few observations from my ride today.
1) The infrastructure isn't cohesive.
2) Probably 50 percent (maybe more) of the cyclists on the streets weren't wearing helmets.
3) The pavement was pretty torn up for much of the route.
4) Drivers seemed very courteous. I wasn't honked at once and only felt that two drivers passed too closely. I've been told that it will probably be different on a weekday.
I am trying to organize a ride with an L.A. native to have them take me on a tour of the bike hot spots. In the meantime, check out the rest of the photos below.