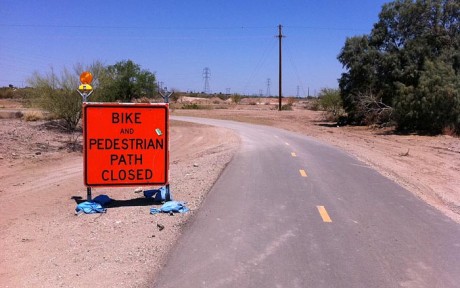 It has been a long time coming, but the Santa Cruz and Rillito Path are connected, although Pima County officials have not officially opened it up to cyclists and pedestrians.
Nanette Slusser, the county's assistant county administrator, said they are still finalizing a few of the details before officially opening it to the public.
She said the goal is to have the path open the first week of August.
While the path isn't officially open, people have been riding on it for the past few weeks. The connection creates a path that is more than 20 miles long.
Slusser said the county is also working on several projects along the river park including a path north along the Santa Cruz to Ina Road.
Check out the Arizona Daily Star's story about the connection of the paths.
Below are images and a GPS overlay of the route between Mountain Avenue and Speedway Boulevard along the Rillito and Santa Cruz.