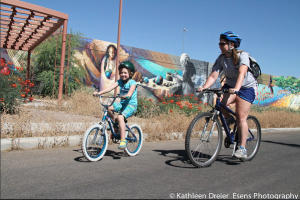 Organizers of the BICAS and El Grupo Youth Summer Bike Camp say they are thrilled with the the first session of the program and are making tweaks to ensure the second session, which starts Monday, is even better.
"Oh man, our first week was amazing," Kylie Walzak, one of the organizers, said. "We feel really strong going into the next session."
Eleven riders participated in the first camp and program coordinator Daniella Diamente said they ranged in age from 8-14.
The experience of the campers ranged from barely being able to ride a bike to being extremely confident on a bicycle.
Diamente said the camper who did not know how to ride a bike ended the week by riding eight miles and the camper who was a confident rider was able to work on more advanced skills.
"He got to build on his skills" Diamente said. "He was doing stuff El Grupo kids do like riding down stairs and picking up water bottles off the ground while riding."
Walzak said having El Grupo riders on hand to act as mentors worked really well and is something they will continue.
Diamente said they are planning to expand on that part of the camp.
"One thing that I didn't realize that was going on was not only we were running a summer camp, we were running youth leadership development camp at the same time with the El Grupo Youth," she said.  "I think we all realize that there are different steps we want to take to improve on that."
Both Walzak and Diamente said the feedback from the parents and campers were overwhelmingly positive.
Many of the parents said they were planning to bring their kids back next summer and some wanted the camp to last longer. The campers said they had a great time.
"The kids couldn't wait to come back to camp each day," Walzak said.
Walzak was impressed with the campers too.
It exceeded my wildest expectations to see how motivated these kids were to get on their bikes," she said.
According to Diamente, there are four spaces left for the July camp. Contact BICAS to sign up.
Photographer Kathleen Dreier, spent the week documenting the camp. Check it out.