Editor's note: This post was written by Colby Henley one of Tucson Velo's contributors. Henley is a daily bicycle commuter and advocate.

While many of the articles on this site look at the benefits of using bicycles for everyday transportation, the most basic form of transportation for virtually all of us is walking. Walking is free, it's good for our health, and it allows us to meet our neighbors; however, in many parts of our community, it remains unsafe and uncomfortable.
In response to these challenges, Living Streets Alliance (LSA) has launched a Pedestrian Safety and Comfort Campaign with the goal of making walking safe and comfortable in the Greater Tucson Region. Last week, LSA began implemented part of the campaign with the first of three pilot Neighborhood Walking Workshops (a type of audit of walking conditions) in the Rincon Heights Neighborhood, ranked by Walk Score as the 14th most walkable neighborhood in Tucson. Despite a relatively good walk score (72-Very Walkable: most errands can be accomplished by foot), Rincon Heights also suffers from some common deficiencies of older urban neighborhoods, such as missing sidewalks and wheelchair-accessible ramps.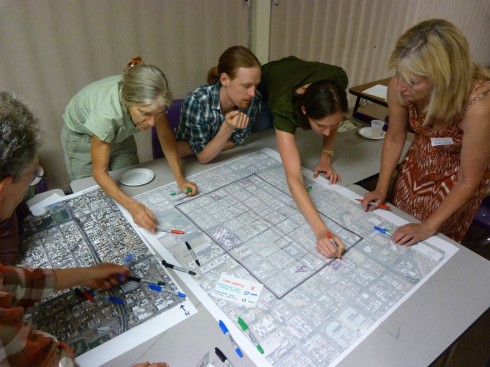 The Rincon Heights Neighborhood Walking Workshop started with an orientation from Emily Yetman, LSA Executive Director, and Jessica Hersh-Ballering, a graduate student in University of Arizona College of Public Health and an intern with LSA who is leading the effort to develop the pilot Walking Workshop survey and mapping protocol. At the meeting, residents mapped out their common destinations and the routes they typically take to get there, places they would like to walk to, as well as problem areas in the neighborhood.
The second part of the workshop consisted of teams of residents from nearby neighborhoods and University of Arizona students walking the streets to map on-the-ground conditions. The workshop teams measured and recorded a variety of features in the public right-of-way that affect walkability, including sidewalk and street widths, auto traffic and parking conditions, shade, lighting, ramps, and more. The teams also noted obstacles, such as buckled sidewalks and dumpsters or trees blocking sidewalks. In all, the workshop mapped conditions on more than 20 blocks within the neighborhood.
The information collected from the workshop will be used to provide Rincon Heights with a baseline of pedestrian conditions in the neighborhood as well as a map of destinations and routes to encourage walking by residents. Additionally, feedback from this initial effort will be used to refine the two remaining pilot Walking Workshops in El Cortez Heights and an, as of yet, undetermined south-side neighborhood. LSA hopes to eventually expand the Walking Workshops and make them available to any neighborhood in the region interested in identifying how to make their area more walkable.