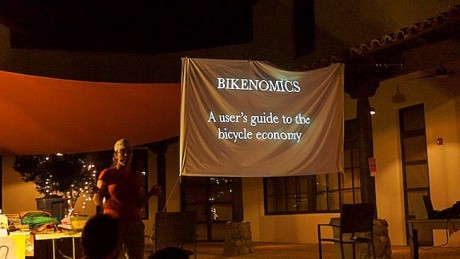 I wrote a while back about government officials teaming with the UA's Eller Sports Management class to attempt to quantify the economic impact of cycling in Tucson.
One of the main goals is to help bolster the region's platinum application as a bike-friendly city from the League of American Bicyclists.
The class is attempting to speak with all the businesses and organizations related to cycling in the Tucson region to determine how much money they make or raise.
I received an email from one of the students asking about Tucson Velo's economic impact. Here's what they asked:
Do you have plans of to expand your business in the next two years? Yes or No
In the past two years, have sales/ event participation: Increased, Decreased, Stayed the Same?
What is your estimated gross revenue related to bicycles over the past year?
How many years have you been in business?
How many full time employees? Part time?
What is the effect of Tucson's bicycle friendly reputation on business?
Why did you choose to locate your business/ non-profit in Tucson or Eastern Pima County?
What makes Tucson and Eastern Pima County great for bicycling?
What can be done to make Tucson and Eastern Pima County better for bicycling?
Thank you for taking the time to do this, your help is greatly appreciated. If there is any additional information you would like to add that you think would pertain to this project, particularly in regards to revenue, please feel free to include that information. The more information I collect the better. Thank you again
Thoughts?