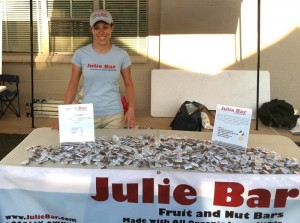 Editor's note: This post was written by Tucson Velo contributor, Mary Reynolds. Reynolds is a mountain and road cyclist who also writes about endurance sports for Examiner.com. You can follow her personal outdoor adventures on her blog.
Julie Cornelius and husband Brian hungered for a tasty energy boost while cycling last fall.
"We were both frustrated with energy bar choices," she said. "They didn't taste good, and a lot of them had 20 to 30 ingredients, with a lot of added sugar."
So the University of Arizona trained nutritionist decided to create her own energy snack.
"We wanted something simple, with just a few organic ingredients," she said. "I started experimenting on my own, my friends tried them and loved them, so we decided to start Julie Bar."
The bars come in a variety of flavors: mint chocolate, German chocolate, chocolate fudge brownie, pumpkin spice, fig & almond, cashew cranberry and PB&J.
Most bars contain dates, "Dates work well as a base, and they have so many health benefits. They're high in iron, sweet, and also sticky so they hold the bar together."
Julie Bars are not cooked, but not technically "raw," because some nuts are roasted.
"We use organic ingredients, and expect USDA organic certification in September," she said.
The bars are gluten-free and dairy-free: "We wanted something simple. There are a lot of people who can't eat gluten and dairy, so a wide variety of people can enjoy Julie Bars."
But Corneilus isn't anti-dairy. In fact, the HUB Creamery now offers Julie Bar ice cream.
"They mixed pieces of our fig & almond bar into fig ice cream," she said. "We've tasted it and it's delicious."
A nutrition consultant and spinning instructor at O2 Modern Fitness, Cornelius had no commercial baking or cooking experience.
"We started with our own resources," she said. "We don't have a business background, we're learning as we go, and enjoying learning all about it. We want to slowly increase our reach, start in Tucson, then Phoenix. We want to gain a customer base in Arizona."
Julie is originally from Phoenix, and came to Tucson to attend the UA. She met her husband Brian (and now business partner) at a bike shop.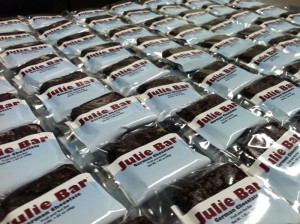 "I used to work at Sabino Cycles, and he was a customer there, that's how we met," she said.
Not surprisingly, Sabino Cycles is a convenient east side location to purchase Julie Bars.
Her local marketing strategy included handing out free samples at Labor Day Weekend events like the Food Conspiracy Co-op's first Friday celebration, and the TMC Saguaro National Park Labor Day 8-miler. Runners at Sunday's Get  Moving  Tucson Half-Marathon were also able to sample Julie Bars. "We plan to attend cycling events in Arizona next year," says Cornelius.
In addition to the Co-op, Julie Bars are available in Tucson at Aqua Vita, E-Konomy Pool, Fairwheel Bikes, Maynard's Market, O2 Modern Fitness, Rincon Market, Summit Hut,  Time Market, the University of Arizona Student Union and other campus locations. Cornelius began selling bars in stores in March 2011, and online in May.
"We're doing a facebook promotion," Cornelius said.  "When we get to 1,000 likes on the Julie Bar facebook page, we'll do an online discount and in-store coupon."
Cornelius also found retail distribution in Wisconsin after passing out Julie Bar samples at Tour of America's Dairyland.
"I had a booth handing out sample sizes, I passed out 1500-2000 samples," she said. "I directed people to the website, and generated a few orders that way."
Veteran cyclists remember America's Dairlyland races as "Superweek," with 8 days of intense criterium racing in Wisconsin towns and cities. Her husband, a Category 1 racer for the O2 Modern Fitness-Maynard's team, competed in the prestigious event. Julie is the cycling team's manager.
Cornelius is a Category 4 racer on the team she manages, but admits  that starting her own business means, "I don't have time to ride and race as much as I'd like to. I miss climbing up Mt. Lemmon."
Julie Cornelius may not be entering and winning many bike races this year. But Julie Bars are already reaching new customers throughout Arizona in only the first six months of availability. "They've been selling very well in Tucson, everyone's very excited about them," she says. "Phoenix shops are also starting to ask for them."