Editor's note: Many of us try to escape the heat in Tucson by venturing to other locales with more favorable climes in the summer. When my family and I get to take a vacation, I often look at the place we are visiting through a cycling lens and I am sure I am not the only one. I thought it would be fun to see what other cities across the county and world have to offer by way of cycling infrastructure and community.
This week in our first Summer Sightseeing Series, Pima Association of Government's planner, Ann Chanecka, shares her thoughts from a quick trip to Portland to check out their version of Cyclovia.
In the coming weeks we'll hear from Tucson's Bike and Pedestrian Program Manager, Tom Thivener about his trip to Denmark and Sweeden.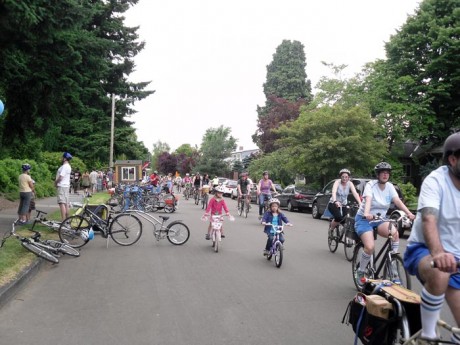 I know, I know – you're sick and tired of hearing about Portland. And to be honest, so am I. While my boss jokes with me that I consider Portland to be the bicycling "mothership," I had not been overly impressed biking around during previous visits there. However, I just returned from a short visit and this time I noticed remarkable improvements.
I walked away from the trip inspired by what is possible in a short amount of time. As the Tucson region ramps up efforts to become a platinum-level bicycle friendly community, we can learn a lot from Portland's success.
The leadership, commitment, and innovation regarding bicycling is evident from the moment you step off a plane. The directional signs indicate where baggage, ground transportation and the "bike assembly area" are located. In fact, a few airlines waived bicycle baggage fees for Portland flights this month in honor of their Bike Month.
Bicycling has permeated the mainstream culture in Portland — something we're still working on in Tucson. While my visit was technically a vacation, I had several observations and thoughts I'd like to share with bike enthusiasts in the Tucson region.
First, I planned my visit around Portland's Sunday Parkways a.k.a. their Cyclovia. Wow. They've been doing Cyclovias for four years now, and they do multiple Cyclovias throughout the year. This summer they are holding a Cyclovia the last Sunday of each month May-September, 5 in total. Sunday's event blew away my expectations!
I was not surprised to hear they had record crowds, and even with their estimated 35,000+ people, the event seemed to operate flawlessly. The 8-mile car-free route meandered through residential areas and there were many busy activity centers along the way.
As one of the organizers of Cyclovia Tucson I couldn't help but wonder how Portland does it — multiple Cyclovias a year that more or less run like a well-oiled machine? Sunday confirmed my suspicion — Portland's Cyclovia recipe seems to have a few main ingredients.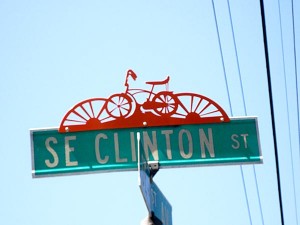 1. Staff: Dedicated staff put time, energy and passion into the event.
2. Funding: There is a major financial commitment from both the City of Portland and Kaiser Permanente. However, other corporations, non-profits and their regional government also contribute funding. Key leaders in the community have decided that Cyclovia is a priority and they ensure it happens.
3. Volunteers: A small army of volunteers are recruited to make the event a great success. The Volunteer Coordinator told me he had 270 volunteers on Sunday. Many Portlanders love the event and so they give their time to it. Bicyclists in Portland are actively creating a visible cycling culture.
That was the second huge observation I made: there is a very strong and noticeable cycling culture — initiated by both grassroots efforts and government programs. I happened to be there at the end of their Bike Month where different groups organize bicycle events over roughly a month stretch, and advertise on one main community calendar.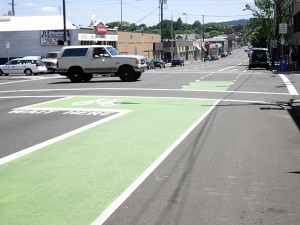 On Saturday alone, there were 17 cycling-related events to choose from — yes, 17! Every bike shop I visited was aware of the different events and encouraged me to participate.
In addition, many of the other Portland businesses have caught onto the fever, or more realistically, the cyclists' buying power. I lost track of the number of cafes, coffee shops, bookstores, etc., that had on-street bicycle parking, and most of them were chock-full.
Cycling is a real and viable transportation option to get to work, to run errands and to meet up with friends. It is a mainstream part of everyday life. Planners in Portland attribute the huge shift in ridership to the advocacy groups, government programs and improvements to the infrastructure.
Portland has been shifting their focus to safe bike facilities for all users. The network of low-volume, residential bikeway streets makes it possible for beginner riders to get around much of the city.
Where there are difficult connections, the city is very liberal in their use of green paint and bicycle signage – a constant reminder to vehicles to be aware and share the road. It is not surprising that bike crashes in Portland are decreasing, while the bicycle ridership rates are dramatically increasing.
So as much as I hate to admit it — I've finally embraced the "mothership" and have to give the Portland region huge kudos for their hard work on behalf of cyclists. As our Tucson community prepares our next bicycle friendly application, we can learn from our friends in the northwest and implement some of their proven solutions here.