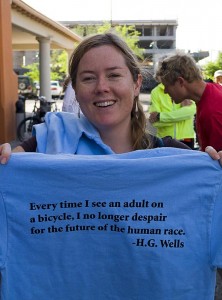 Cyclists buying bikes in Tucson might have to shell out just a little bit more money to purchase a new bike.
Officials from the Bicycle Advisory Committee and the City of Tucson are exploring the idea of creating a bicycle tax on the purchase of new bikes.
The tax would go toward funding bicycle projects and programs within the city.
Tom Thivener, the city's bicycle and pedestrian program manager, asked the BAC's Executive Subcommittee to put the tax on their agenda Wednesday night to discuss it.
According to Thivener, Colorado Springs says they are the only city in the country with a bicycle tax. They charge a flat $4 fee for every bike sold, including big box retailers like Costco and Walmart.
Thivener said because of the economy, he has seen the funding for the bike and pedestrian program shrink. When he was hired they had two full time employees. Now Thivener only works 75 percent of the time on bike projects. The money for programs like Bike Fest and Cyclovia is being moved to Pima Association of Governments.
"I am just wondering what is going going to be left," he said. "What am I going to be able to do?"
Thivener said Colorado Springs brings in about $100,ooo a year through their program.
Based on national bike sales numbers and a comparison to Colorado Springs, Thivener estimates 33,000 bikes are sold in Tucson each year. At $5 per bike, the tax revenue would be $165,000 a year.
BAC president, Ian Johnson said the idea is in the very early stages but he he sees it as a potential option for helping fund bicycle projects in the region; unlike bicycle licensing which is "terrible" idea because the program costs more that it brings in.
"It could provide an alternative source of funding that could be dedicated toward staffing, PSAs or other important elements of the bike program that need funding," he said. "In terms of transportation funding it isn't very much, but it is a reliable source of income."
Johnson said the BAC decided to spend the next month researching the program and speaking with the bike community and bike shop owners to make sure it is something they could support.
The BAC's hope is that if they decide to support it, Pima County would also adopt the tax. There was some concern about people driving outside the city limits to avoid the fee.
"It is hard to imagine someone driving across town to avoid a $4 fee, but we definitely want to talk to business owners to make sure before we endorse or reject such a plan," he said.
Fairwheel Bikes owner, Ralph Phillips said he wasn't totally sold on the idea.
"I have mixed feelings about that," he said. "I think it is a nice way of improving the community and tacking the tax on to the users of it."
But he said many of his customers are University of Arizona students who are on fixed budgets and don't ride their bikes anywhere other than campus. He could see where they might feel it wasn't fair.
He said much more than $4 or $5 for the tax would be excessive. Neither the city or the BAC have proposed an actual amount.
David Tang, Ordinary Bike Shop's owner, said he liked the idea. but agreed $5 seemed like a good amount.
"I think it is going to be such a small amount that I don't think most people are going to care," he said. "I see it actually having a profound impact on the bike and ped program for the city. "
He said he could see that the fee might prevent a few people from buying other things like helmets and lights, but it would be a small impact.
"I really don't think it will affect bike sales that much," Tang said. "If anything, it will help advocate and get more people on bikes because the programs will be that much better. "
Bicyclist Art Gillespie purchased two bikes for his family in the last two months and said a tax wouldn't have affected his decision at all.
"Four dollars against the price of a bike is trivial," he said.
Gillespie said it would actually be pretty cool, "assuming that the money actually gets to bike projects."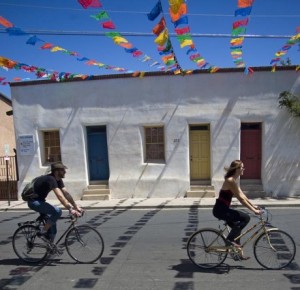 Gillespie said he would be willing to pay even more than $5.
"At what point would I be pissed off?" he said. "I don't know — 30 bucks."
Johnson said this tax could also help eliminate the mentality that cyclists don't pay their fair share.
"Of course I always want to emphasize that most bicyclists drive cars and therefore support roadway projects," he said. "Roadway projects are subsidized by the federal government, which uses money from a general fund. On top of that, the RTA, which is where most roadway project funding is coming from right now, is sales tax based not use based. I believe that bicyclists already pay a fair share and they also use the roads a lot less than cars do, but this would be one potential way to short circuit that argument."
After officials research the program, the issue will eventually go before the full BAC to determine if there is broad support for the fee.
Thivener said he is investigating what city processes would have to be implemented to get the tax added.
What do you think about the tax? Good idea? How much is too much?