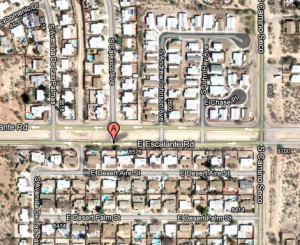 Updates: Driver arrested in fatal bicycle crash had previous DUIs
Victim in weekend hit-and-run crash had recently returned to riding
A Tucson cyclist was struck and killed on Tucson's east side this morning.
According to a Tucson Police Department press release, 56-year-old Albert Eugene Brack was riding east on Escalante when the driver of a Ford F150 pickup veered into the bike lane and struck Brack from behind.
The driver of the truck fled the scene. The truck was spotted a short time later and the driver, 48-year old Edward Gomez Nava, was located on foot a short distance away from the pickup.
Officers are investigating whether alcohol was involved.
Nava was was arrested and charged with one count each of 2nd Degree Murder, Leaving the Scene of a Fatal Collision, and Criminal Damage — all felonies.
Brack was taken to a local hospital, but died from his injuries.
The crash occurred around 9 a.m. near the intersection of Escalante Road and South Calexico Avenue.