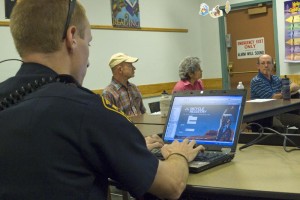 The Tucson Police Department has completed work on a voluntary bicycle registration website that will allow Tucson cyclists to register their bikes online and allow officers to locate the owners of found or stolen bikes.
"It is basically a free way for you to keep track of your bicycles and for us to access that information," Tucson Police Department patrol officer Jesse Cornia told the Tucson Pima County Bicycle Advisory Committee during their meeting Wednesday.
According to Cornia, he worked with local web development company Ephibian which developed the site for free.
The site, which has been completed, is not yet live because the city's IT department is reviewing it to ensure it is up to their security standards.
Cornia said he did not know when it would be live, but said it is a priority in the police department and hopes to have it live soon.
"My preference would be to get it up next week," Cornia said. "As far as our a city IT department goes though, they are kind of inundated with a lot of stuff."
Once the site is live, users will be able to create a profile, add an unlimited number of bicycles and add the serial number, make, model, color and more. Users can also add an image of the bike.
If your bike is reported stolen and you have registered your bike on the site, TPD can check the serial number against the pawnshop database.
"Whenever anyone pawns an item they make a copy of your ID and a fingerprint," Cornia said. "All things with serial numbers go into database we call Leads Online."
Cornia said detectives can compare databases and locate the owner if a stolen bike turns up at a pawn shop.
Currently there is not a way for the University of Arizona and TPD to combine their databases, but a he said he hoped the registry would be utilized by other jurisdictions as well.
The site will also allow TPD officers to post information about bikes they find.
TPCBAC members asked if photos would be posted with the description of the bike. Cornia said they weren't going to include images of the bikes because it would make it too easy for someone to try to claim a bike that isn't theirs.
Mayor's Chief of Staff presents transportation tools
The mayor's chief of staff Andrew Greenhill presented two online transportation applications the city has developed.
One is SeeClickFix.com, which I wrote about before and allows members of the public to report maintainence issues like potholes and graffiti.
Greenhill said he hoped cyclists would use this site or accompanying smart-phone applications to report road hazards they encounter.
The second web application Greenhill presented was a site that provides real time tracking of buses on their routes. It allows bus riders to know whether their bus is early, on-time or late.
Executive subcommittee to proceed with 3 percent increase in bike commuters
Members of the executive subcommittee presented their goal of increasing bicycle commuting from two percent to five percent in the next 10 years.
Ann Chanecka asked the TPCBAC to set a goal based on feedback from the League of American Bicyclists on Tucson's last bicycle friendly application.
TPCBAC member Kevin McDonald said they should build in mini goals to make sure the the increase is on track.
"It is basically to track progress on how we are doing," McDonald said. "Are we getting there? Are we behind? Are we ahead?"