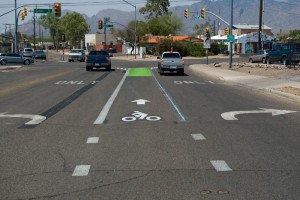 The Tucson Police Department is targeting motorists along the nearly complete Fourth Avenue/Fontana bike boulevard.
Sergeant Jerry Skeenes said officers have been spending time at Grant Road and Fontana Avenue watching for motorists who are heading north and attempt to drive straight through the intersection.
Drivers are now required to make a right or left turn onto Grant Road rather than drive in the bike-only lane heading north through the intersection.
Skeenes said they recently spent two hours there and ticketed 15 motorists who drove through the intersection.
He said because the bicycle lane going through the intersection is just wide enough for a car, that some of the motorists were just confused about what they were supposed to do.
He said often one person will get in the bike lane to go across the intersection and several other people will follow.
The officers have also been on the lookout for motorists who stop in the bike box on the other side of the intersection.
"I actually thought that it would be a problem, but it hasn't been," Skeenes said.
The officers have seen a few people get into the bike box, but then realize they probably shouldn't be there and pull out of it.
As for the bike boulevard, Tom Thivener, the City of Tucson's bicycle and pedestrian program manager, said the portion of the route north of Speedway should be completed in the new few weeks when the landscaping is added to the traffic circles.
Crews recently added bike boulevard signs throughout the route. The signs show cyclists where the bike boulevard goes, additional bike routes that connect to the bike boulevard and distances to parks, schools and libraries.
Thivener said he has gotten mostly positive feedback from the neighbors about the signs, but did get a call from one person who complained about the sheer number of signs.
But he said the point is to remind motorists over and over that they are on a road giving priority to bicycles.
As for the section south of Speedway Boulevard, Thivener said the city's paving crews are holding up completion of the intersection at Speedway and 4th Avenue.
Once the strip of pavement the city is trying to add to make for a smoother ride is finished, the city will add lane restrictions for motorists requiring them to make right or left turns rather than go straight through the intersection.
Thivener said he doesn't know when the crews will return to the street to work on the strip of pavement.
Thivener said he hasn't seen a huge spike in bicycle traffic on the corridor, but didn't expect to see one yet, especially because they haven't started marketing the route.
"Has it made an environement that is friendly to bicycling? Yeah absolutely," he said. "It is worlds better than it used to be. We have most of the pieces in place. Now it is up to the attitudes of the people in the neighborhood and whether they are ready to make a shift in their behaviors."
I rode through the entire corridor last week and here is what it looks like: