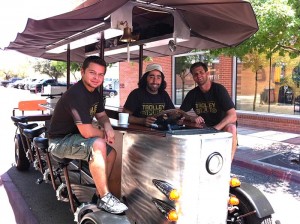 Could bicycling bring $500 million to the region? One bicycling advocate in Tucson thinks it might be close and he is helping organize a study to find out.
Members of the Platinum Challenge Task Force — a group devoted to helping Tucson obtain the Platinum Bicycle Friendly designation from the League of American Bicyclists — is organizing a study in conjunction with the University of Arizona Eller College of Management's Sports Management Program.
Richard DeBernardis, the president of Perimeter Bicycling Association of America, is part of the task force and is  helping organize the study and secure the $10,000 the study will cost.
He said knowing how much money bicycling brings to the region can help in a lot of ways, including getting platinum from the LAB, but primarily, he said, it will help legitimize cycling in the community.
"Our community is a very well known bicycle community and it is time that we show our political leaders as well as our governmental leaders just the kind of impact bicycling has on Pima County," DeBernardis said.
Ann Chanecka, the Pima Association of Governments bicycle planner and one of the lead representatives on the task force, said knowing how much money bicycling brings to the region could help motivate officials to spend more money on bicycling.
Chanecka said Tucson has never had a comprehensive bicycling economic impact study done, so they are looking to other cities like Portland for ideas on what they should include.
So far, the group has developed five categories to include in the study: retail sales, tours and events, manufacturing and distribution, professional services and infrastructure investments.
Chanecka said a class of sixty students will work on the impact study as their class project this fall and will submit the results in December, which will be just enough time to include the results in the platinum application in February.
Chanecka and DeBernardis don't know what the results of the study will be, but DeBernardis said he thinks it could be as high as $500 million.
"I am almost convinced that there is probably a good half-billion dollars economic impact on Pima County alone with bicycling," he said. "I have no idea what it is going to turn out to be. If it is a half billion, then for sure all of our entities in Pima County will start looking at bicycling more seriously."