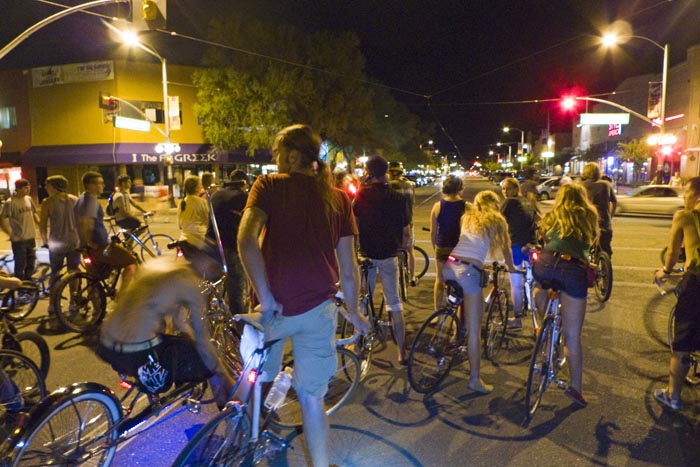 In an effort to avoid targeted enforcement of the Tuesday Night Bike Ride, Tucson Police Department officials met with members of Pima County's bike ambassador program on Monday night.
The meeting was organized by TPD officer Jerry Skeenes, who is in charge of the grant focusing on bicycle and pedestrian safety; and Matt Zoll, Pima County's bike and pedestrian program manager.
Skeenes, who was asked by Downtown Police Sergeant Bart Rohr to help with a plan for getting the riders to obey traffic laws, said he doesn't want to go out and ticket a bunch of cyclists.
"We want everyone to have a good time, first of all," Skeenes said.
Skeenes originally hoped to provide ride leaders with assistance in reserving barricades and directing traffic for the ride, but realized the lack of organization would make that impossible.
"I am a little concerned we are not going to have a way to address the group," Skeenes said. "That makes it difficult for us to handle without doing what law enforcement always does, which is go out cite people for stuff."
To avoid that scenario, the bike ambassadors, who will be at the start of the ride handing out Share the Road guides and safety information, invited the officers to speak to the group before the ride.
Zoll said the bike ambassadors will not be going on the ride because of liability concerns, but wanted to facilitate a conversation.
"We are not here to tell the Tuesday Night Bike Ride what to do," Zoll said.
Ignacio Rivera de Rosales, Pima County's safety educator, BICAS board member and coach of El Grupo said this is a great opportunity for the cycling community to work with police rather than against them.
Sgt. Rohr said more and more 911 calls have been coming in because drivers are getting frustrated waiting at stoplights while hundreds of cyclists stream though.
"I have personally been in the intersection of 6th and Congress and seen hundreds and hundreds of people blowing through the red light, blocking traffic and taking up all the lanes of travel," Rohr said.
Those actions are what have police concerned, not only because of the lack of respect for other people on the road, but because  it could lead to an angry driver driving into the group.
Skeenes said they will speak to the group Tuesday evening and hope the riders will police themselves.
"We want to support you in this thing, but we also have a job to do and that is protect everyone in the city," Skeenes said. "We have to have some rules obeyed. Our goal is not to check up on the bike ride and follow people around, we are not interested in doing that."
The TPD representatives stressed they wanted to make the ride fun and safe for everyone.
"Whether you are into bikes or not, Tucson prides itself as being a bike friendly community. We want to work towards something that is good for everybody."