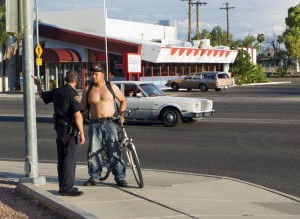 Cyclists who receive tickets in the county and on the University of Arizona campus now have the option to take a diversion class instead of paying a fine.
In the past, the only option for cyclists who were ticketed outside the city of Tucson boundaries was to pay the fine or do community service. The ticket would remain on their record and often be forwarded to the cyclist's auto insurance, potentially causing their rates to go up.
City cyclists on the other hand have had the opportunity to take a diversion class, which is a collaboration between the city of Tucson and Pima County.
Karl Woolridge commander of the Pima County Sheriff Department's special operations division helped get the program started. Woolridge said he is glad there is consistency among the jurisdictions in the region.
Matt Zoll, Pima County's bike and pedestrian program manager, said the city diversion class was set up several years ago, but the county's program took more than a year and a half to get in place. The county's program will function like the city's.
Woolridge said he brought all the people involved together to try to eliminate all the hang ups and determine what each group needed to make the diversion program work.
According to Woolridge, the biggest issues were trying to find a department to oversee the the program, determine who is eligible and keep track of people who have attended.
"We certainly don't want people abusing it and going to a diversion six or seven times a year," Woolridge said.
Zoll said the program will benefit the community.
"It is really going to help people out a lot," Zoll said. "Most citations we see are people who have gotten popped for running a stop sign — that can range from $160 ticket to probably a $250 ticket — or riding at night without a light or riding on the sidewalk."
According to the ticket pamphlet sheriff's department deputies give to cyclists who are cited, the rider must contact the County Attorney's office prior to their arraignment date to ensure they are eligible.
Cyclists are allowed to take one diversion class a year.
Zoll said once the the rider has determined they are eligible, they can call the county's bike and pedestrian office (520-243-2453) to schedule a class. Once complete, the rider takes their certificate of completion to the court to have the ticket dismissed.
The program went into effect at the beginning of July.
Editor's note: If a cyclist gets a ticket from the UA's Parking and Transportation enforcement officer — they patrol the garages and areas on campus that are not "roads," — there is no option for a diversion class. If a cyclist is ticketed by UAPD, the diversion class is an option.