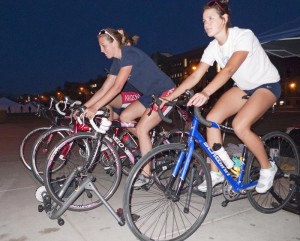 The University or Arizona TriCats, spent 36 hours in the saddle to raise money to send the team to the 2010 Collegiate National Triathlon Championship in Lubbock, Texas on April 17.
TriCats Secretary, Neil Segel said team members began pedaling at 8 a.m. Wednesday and would finish at 8 p.m. Thursday.
So far this year, they had raised $400, but in the past it has been closer to $800.
Segel said they don't have an overall fundraising goal, but every little bit helps.
"A little money will go a long way with college kids," Segel said.
The team is sending 20 athletes to compete in the Olympic-distance triathlon and 15 to compete in the sprint-distance triathlon.
Segel said the men and women's team combined for 12th place overall last year, but this year they are aiming for a top-1o finish.
If you'd like to donate to the team, click here.