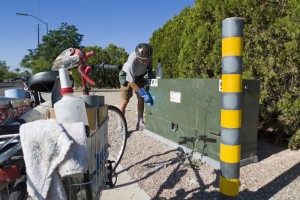 Robert Sheinaus' bike is parked on Mountain Avenue's sidewalk just south of Ft. Lowell. His racks are packed with spray bottles, towels and various other cleaning supplies.
Sheinaus is crouched over a green utility box where he is scrubbing blue graffiti.
Sheinaus is the chairperson of the Hedrick Acres Neighborhood Association and the person behind the Neighbors Organized To Abolish Graffiti (NoTAG) program.
He said he cleans up the graffiti in Hedrick Acres and gives presentations to other neighborhood officials — all without a car.
Sheinaus gave up his car after he moved to Tucson and had two cars totaled.
"The second time it happened I said, 'It isn't worth it and I am going to do something different,'" Sheinaus said. "I went car free."