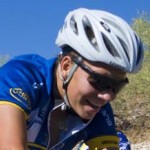 Editor's note: 14 -year-old Max Cronyn was invited to the USA cycling southwest regional development camp in Flagstaff and will be filing daily updates about what he is doing at the camp. I've asked him to answer several questions each day, but if you want to know something, I'll forward your question to him.
Today's activities:
We went for a super easy spin this morning. It was only about two hours and helped us recover a bit. That was the only riding we did today.
We went back and watched YouTube videos while we waited for our meetings with the coaches. We watched lots of bike crash videos because they are always fun to see.
Our meetings with the coaches, Barney King and Corey Steinbrecher, were pretty late so we had a lot of time to wait. In the meeting, they told me what kind of power I was putting out and what percentile that put me in. They have been accumulating data on junior cyclists for a while and that is how they figured out the percentile we were in.
Their calculations said I could do 380 watts for 5 minutes and 316 watts for 30 minutes. They also said going up Mars Hill I was doing 400 watts all the way up.
They said for a five-minute interval, holding 380 watts puts me in the 75th percentile for all the riders who have been in the camp in the past. That includes everyone from 14-18 year olds.
For the 30-minute time trial I was in the 80th percentile. I thought it was pretty cool to hear that.
The coaches said the bad news is that it is hard to go up hills when you are really big, but they also said the good news is that I can put out the watts to get up the hill. They said I shouldn't go on a diet and that as I get older, I'll be able to put out more watts.
They recommended getting a time trial bike and focusing on that because they thought I could be really good at that.  They also said to keep riding, that I am doing really well and that I have a lot of potential.
Barney's analogy is like a sponge. When you first get a sponge wet and full of water it is really easy get water out of it by squeezing it a little bit. And if the rider is the sponge and the water is potential, right now I am just squeezing the sponge a little bit so I have a lot of potential to squeeze out.
They said in a couple years they think I can be really fast.
After dinner and more pool, we had our nightly meeting. This time, the coaches answered questions we wrote down and submitted yesterday. There were some pretty interesting answers.
I think of Corey as being so good, but he said that there are a lot of guys that are really good too. He said that he was mainly a water carrier. He got to ride plenty of races and try to win them, but a lot of time he was the guy who had to carry the water from the back to the front.
The coaches also said that the US cycling teams are starting to become a force to be reckoned with. Ten years ago, that wasn't the case.
It was also interesting to find out how many juniors there are in other countries and that even though we don't have very many juniors racing, we still have a lot of talent in the pro ranks. They said in places like Belgium more than 200 juniors will come out for a local junior race.
Most fun:
I really liked meeting with the coaches and hearing what they had to say. I like knowing that I can going fast and I like going fast.
Most challenging:
It was hard to wait for the meeting with the coaches. I showed up two minutes early and was both nervous and excited to hear what they had to say. I was just sitting there wondering what they would talk about.
On my mind:
I am feeling really motivated. I feel a lot more confident on the bike and I feel like I am going to come back to Tucson and be a lot stronger.
I think I learned a lot this week. I feel like a better bike rider.
Best food:
I was really hungry today. The last couple days I haven't been as hungry, but today I was starving so I ate a lot of food. They had a lot of tomatoes today. I love tomatoes, so I ate a ton of them. I got a lot of comments about how many tomatoes I ate.
I had two pieces of cheese pizza and then the equivalent of three pretty large tomatoes sliced on top of it. I was walking around with a fork eating all these tomatoes. People thought it was pretty funny.
Up next:
Nothing is really happening tomorrow. We are going to have breakfast and then pack up. We get evicted at 1 p.m., but can leave any time.  My whole family is going to pick me up and we are going to start driving toward Bend, Oregon for the Junior Nationals, but we are going to stop to visit family along the way.
Editor's note: This is the final installment of Max's diary from the junior development camp. He'll resume his diary next week during the US Junior National bike race. Thanks Max.