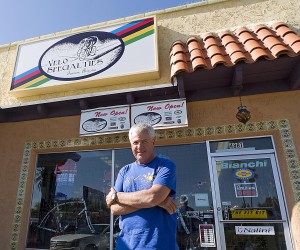 Owner Paul Domingue hopes Tucson's newest bike shop, Velo Specialties, becomes part high-end Italian retailer and part nostalgic community hangout.
With names like Bianchi, Cinelli and Masi on the new bikes and vintage Freschi bikes on display, the shop at East Speedway Boulevard and Swan Road, has a distinctly Italian flavor.
Domingue said the Italian bikes and parts are what he loves so they are what he wants to sell.
"Bianchi and Masi are wonderful old names and nobody is doing them," he said. "I wanted to make sure I just wasn't another bike shop. I wanted to work with products I personally like and enjoy working with that have a little style."
This isn't Domingue's first time owning a bike shop, but he's been on hiatus for the last 30 years. He and a partner ran a shop called Velo Specialties in the Northeast, but after seven years they went their separate ways.
After the shop closed, Domingue spent his time as a teacher and administrator for private boarding schools around the country. Domingue, a level two USA Cycling coach, created and coached youth cycling teams at the schools.
Despite the hiatus, he always figured he would return to the bike business.
When Domingue left his last school job, he and his wife returned to their home here and decided it was time to try something different.
He said it took them about a month to decide the time was right to open the shop. His wife is also opening a craft oriented gift shop in the same complex. He said Tucson was the perfect place to open Velo Specialties because it is such a great city for road riding.
While the timing was right, he said there are even some benefits to opening a business in a recession. Domingue said landlords tend to be more accommodating and people really want to see businesses succeed.
In addition to selling road frames and bikes, Velo Specialties will stock and sell track equipment, although Domingue acknowledges Tucson might not be the market for that.
"I am a tracky," he said. "The idea of selling track equipment is really important to me. So obviously it isn't just geared toward a Tucson audience."
Domingue said he is working on a website with a sales component to sell the track equipment around the world.
He also offers coaching services, fitness testing, bike fits using the Fit Kit system and repair services; but says he only works on road bikes.
Domingue wants the shop to be a hang out for customers and plans to serve espresso once his machine is fixed and he gets the proper permits.
He remembers the shops from when he was younger when the shops were "presided over by aging six-day racers who would tell you stories about what it was like to race in the old days."
He wants Velo Specialties to be like that.
"It is part of that semi-romantic image of what a bike shop should be. it's not just a place to go buy a bike," he said. "Everybody is in business for a reason. Obviously we want to make a living, but it should be more than that. I wanted to do a shop that was more than just another bike shop. I wanted to do something that was very, very unique. I think we got it."
Velo Specialties, located at 4881 E. Speedway, is open 10:30 a.m. to 6 p.m. Monday-Saturday. His website is not yet live, but you can "like" the shop on Facebook.