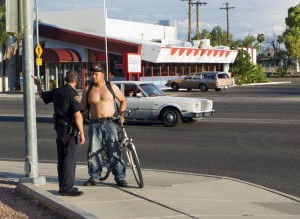 Cyclists riding in the evening should make sure they are following all the road laws on Thursdays and every other Monday and Friday.
The Tucson Police Department is continuing its bicycle and pedestrian enforcement campaign, but is only doing it a few days a month between 4-7 p.m.
Unlike the first major enforcement campaign, the officers are writing more warnings and handing out lights and helmets.
"It's not good PR sending a 10-year-old home with a ticket and walking their bike," said Tucson Police Department Sergeant Jerry Skeenes at the Tucson Pima County Bicycle Advisory committee meeting on Wendesday.
Skeenes also said that officers will be patrolling Fourth Avenue tomorrow because they have received complaints about bicycles, pedestrians and motor vehicles.
Skeenes said the department hopes to stretch the enforcement though the summer.
Check back soon for a schedule of TPD's enforcement dates and times.
Bike path opening to cyclists
In the coming days Pima County will add a sign allowing cyclists to use the unpaved south side of the Rillito River Path between Mountain Avenue and Campbell Avenue. The decision to open the path was made because the construction on the the north side of the path between Hacienda del Sol and Country Club has closed that section of the path. Crews are adding a paved path to the section.
Given the closure, cyclists' only option would have been crossing the Campbell Avenue bridge. Once the construction on the north side is complete, the county will close the south side to add a paved and dirt path, which will be open to cyclists once it is completed.