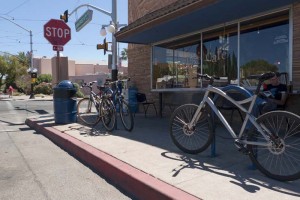 Patrons of Epic Cafe on University Boulevard should see the installation of the city's third bike corral before the end of April.
Two Feathers, the owner of Epic Cafe, said he received an email from the City telling him the corral would be installed in the next two weeks.
City of Tucson bicycle and pedestrian coordinator Tom Thivener said the corrals are designed and ready to be installed, but it is a matter of getting everyone organized.
"I am trying to corral, so to speak, all the needed TDOT people to put it in," Thivener said.
The corral at Epic Cafe will be installed on the north side of the business and will not displace any vehicle parking.
The idea behind bike corrals is to return sidewalks to pedestrians and allow business owners to add outdoor seating in the area where the bikes used to be parked. Up to 20 bikes can fit in one parking space.
Two Feathers said he gets a lot of business from cyclists and is glad the city is putting in the corral.
"It seemed like a reasonable solution and a good use of the space," Two Feathers said.
The city installed corrals in front of The Rialto on Congress Street and Time Market on University Boulevard.
The corral at Time Market was installed in October of 2009 and according to Time Market's general manager Kade Mislinski,  said he is happy with the corral.
I love it," Mislinski said. "I think it sends the right message."
Bike corrals are an inexpensive way to improve bicycle parking in key areas. Thivener said each completed corral costs between $1,500 and $2,000 to build and install.
In order to get a corral installed Thivener said the parking commission requires that all the businesses within 50 feet of the corral support the plan, but if they do, the city can remove a parking space and add a bike corral in its place.
The city conducted a survey of Time Market employees and patrons to determine how the corral was being received.
According to the survey, 82 percent of the people who responded said the corral was an improvement over the old bike parking that was on the sidewalk.
People who took the survey suggested ways to make the corrals look more attractive and easier to use.
Janet Miller is one of Time Market's customers that enjoys the bike corral.
"I think the bike corrals are ingenious," Miller said. "There should be one in front of every block."