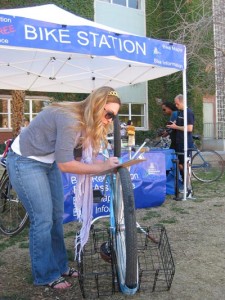 More people are beginning to utilize the University of Arizona bicycle station, which is a partnership between the UA Parking and Transportation department and the Pima County Bike Ambassador program.
According to Colin Holmes, a BICAS mechanic, who also works at the station, it was slow when they opened in September, but it has been picking up quite a bit.
Holmes said they used to talk to about 10-15 people a day, but now they are seeing 30-40 cyclists a day, which Holmes said, doesn't include the people who need small repairs done.
The station, which is open Tuesday and Wednesday from 9 a.m. to 1 p.m., offers a free light set when a cyclist registers their bike with the UA.
Chloe Black, a second bike station employee, said you can register your bike even if you aren't a UA student or employee and that the Tucson Police Department has access to the registration database.
UA student Kelsey Brennan said she rides by the station often, but finally stopped in to register her bike and get the free lights so she could ride safely at night.
"I like to ride downtown (at night)," Brennan said.
Black and Holmes say they are surprised at how few people know riding without a light carries a hefty fine.
In addition to bicycle registration, the bike station employees will help cyclists with small repairs.
Brake adjustments, tube patching and loose headsets are the most common problems Black and Holmes see, but they have helped with more major repairs.
"I did a little wheel truing using the brake pads as guides," Holmes said. "I turned one guy's bike into a single speed because his
derailuer was broken."
Employees earn between $10-12 depending on their experience.
Bike maps and other informational literature is also available at the bike station.
More info here.