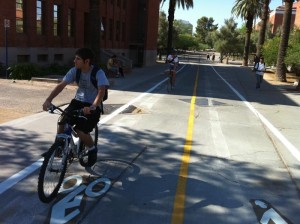 The University of Arizona is trying to make the path between 2nd Street and Campus Drive more friendly to cyclists and pedestrians.
The Parking and Transportation department recently completed a repositioning of the bike lanes and pedestrian walkway. The new position places the bike lane in the middle of the concrete walkway and allows for pedestrians to have a place to walk on both sides of the bike lane.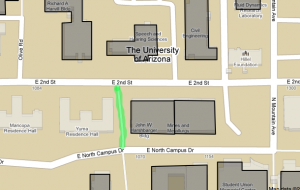 Charles Franz, the UA Parking and Transportation program manager said the repositioning makes the path more like the nearby Olive Tunnel, which has walkways on both sides of the bike lane.
"There wasn't a pedestrian walkway on the east side," Franz said. "It was only about a quarter of the way, then you would have to get in the bike lane if you were going south to north."
In addition to moving the bike lane, the Parking and Transportation department also added new pavement markings including the "look" markings you see in the photo to tell pedestrians to check for bikes before walking across the path.
Check out the slow-motion video of the path below: