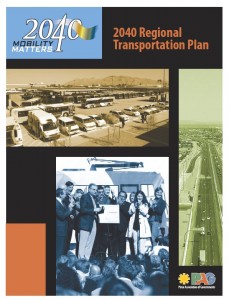 The Pima Association of Governments released the comments the agency received from the public on the regional transportation plan in June.
The long-range transportation plan will shape the way the region grows over the next 30 years.
According to the report released by PAG, 105 of the 136 comments they received were about bicycle projects. Many of those comments were submitted through the website advocating for bike boulevards in Tucson.
I've included some of the more interesting comments below, but you can view all of them here and read PAG's report and responses here.
*The names of the commenters were removed by PAG.
Our family loves to bike together, but with small children in tow, it has been virtually impossible for us to bike as a family in Tucson. We moved here from Portland, OR last year where we were able to bike virtually everywhere and felt incredibly safe. We strongly support the implementation of bike boulevards around Tucson!
…
Bike boulevards would be at the top of my priority list, and I would like to see them
planned and built as quickly as possible. They make cycling safe and relaxing
enough for anyone to feel comfortable doing it, and at a reasonable cost.

…

There seems to be a huge concentration of useless bike boulevards in central Tucson
that only serve to connect one neighborhood to another. This is a waste of money
and resources. These need to be redistributed to connect southern Tucson to the
downtown area.

…

I strongly support the inclusion of as many bicycle boulevards as possible. The street
signs in Tucson may call the city a "bicycle-friendly community" but some of the
roads where such signs are posted are extremely hostile to bike traffic: the Rillito
bridge on Campbell, for example, where the bike lane suddenly disappears and
there is no sidewalk sufficient to accommodate bikes and pedestrians. The
expansion of bike boulevards, where bikes do not have to compete with cars, will be
a great incentive for getting people to use nonmotorized means to commute to
work.

…

The plan is insufficiently bike friendly. The assumption that our society will be as
motor vehicle dependent 30 years from now, as it is today, is clearly erroneous.

…

I really like the concept and development of Bike Boulevards. They provide a safe,
less car encumbered way for bicyclists to get around, and a good network of bike
boulevards could really help to reduce traffic flows in this city. A lot of trips made by
auto are trips that could be easily done by bicycle, but it needs to be safe and the
bike boulevards go a long way toward making that happen.
I would also like to see the Urban Loop implemented, hopefully in the next few
years. Connecting the current bike path at Grant & the Santa Cruz with the Rillito
path near I-10 would be a great start.

…