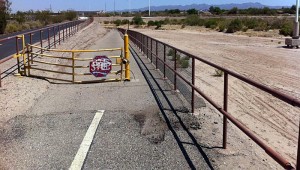 The connection of the Santa Cruz and Rillito River paths that we wrote was "unofficially" connected is now "official" according to Pima County, who will host a celebration on Oct. 22.
In a press release issued last week, the county said the connection created a 23-mile continuous path that "connects to nearly 20 Tucson and Pima County parks and nearly 20 trailheads."
The county says when the loop is completed 38 percent of the metropolitan population will live within one mile of it.
The October celebration will feature a dedication and several fun runs and rides ranging from two to 22 miles.
By the time the celebration occurs, the county says there will be even more paths to use.
"By October, the pathways along the Santa Cruz River Park will be complete from nearly Avra Valley Road on the north to Julian Wash Greenway south of 39th Street.  In addition, the river park along Cañada del Oro will be substantially complete from Thornydale Road to Catalina State Park.  The County will continue to make walking, biking and landscape improvements for the entire Loop, including closing any existing gaps.  Potential additions in the near future include extending the Santa Cruz River Park to the San Xavier Mission on the south and through Sanders Road in Marana on the north, and connecting the Pantano River Park to the Rillito River Park."
Despite word that the connection is official, as of Monday, a gate with a stop sign is still in place when going under the interstate from the Rillito Path. There is a gap wide enough to go by on a bicycle, however.
If you missed it, be sure to check out the new two-phase crossing we wrote about yesterday.