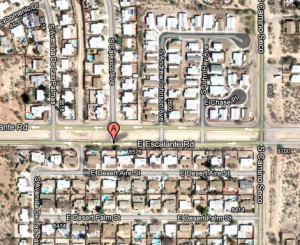 The victim of a Sunday morning hit-and-run crash on Tucson's east side had recently returned to cycling.
Albert Brack's son, Steven said Albert had started riding again.
"He used to bike quite a bit growing up around Vail," Steve wrote in an email. "… not too long ago he started going once a week every Sunday. He would go from his house (not even a mile from the accident) and he would bike down Escalante to Wilmot and down the bike path on Aviation. He wanted to try to bike to the snake bridge on Broadway. It sounds like he was on his way home when it happened, so I hope he was able to make it there this time. He has always been scared about riding along with traffic and would always wear safety gear."
According to Steven, Albert was born in Prices Branch, Mo. He moved to Tucson when he graduated from high school in 1973.
Steven said of his father, "He built the house I grew up in in Vail, Arizona. We would go camping and take trips a few times every year. He was a great father who would be there for everyone if he could."
Steven said in addition to riding his bike, Albert was spending a lot of time pursuing his photography hobby.
Albert worked briefly for IBM and then Raytheon, where he was working full time.
Steven said the family will hold a memorial here in Tucson, but the funeral will be in Missouri. The family is working on setting up a memorial fund as well.
 Check back this afternoon for a few images of the road where the crash took place.