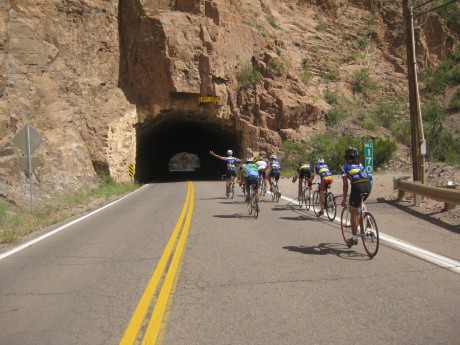 The Blue Loop bicycle tour, one of the year's most anticipated Greater Arizona Bicycle Association tours is right around the corner.
I've yet to ride the Blue Loop, but have been told by many people it is one of the most challenging, beautiful and fun bicycle tours in Arizona.
Here are the details from GABA's website:
The Blue Loop is a ride to escape the heavy traffic and pressure of the big city to relax in the remote Arizona and New Mexico scenic mountain countryside. You will enjoy a total elevation gain of 16,977 feet in over 3 days and 216 beautiful miles.
This is Labor Day Weekend and reservations for accommodations go fast unless you are camping. There will be a few changes this year. This is one of the most beautiful and astonishing rides around, please sign up early. The options for sleeping are as always, grouping up in hotels and splitting expenses at your choice of accommodations along the way, or camping. The bottom line is that it is a lot of work to produce this ride, and we need your committed participation as soon as possible!
Here's what we will be doing this year:
Friday, September 2, 2011:
Starting in the quaint mining town of Clifton, you may consider the Rode Inn for rooms. The bicyclists' registration will be the evening of Sept. 3rd in the Rode Inn parking lot. If you want to book a room here you will want to call soon as these rooms go fast (928-865-4536). You may also want to check out the Morenci Motel at 928-865-8208. If you are a camper, we have made arrangements to camp at the Al Fernandez Park. In Clifton as a camper, you are welcome to shower in one of the volunteer's rooms until 9 pm. You may buy your dinner (closes 8pm Fri.) and/or breakfast (open 5am Sat.) at PJ's Diner on your way in or out of town.
Saturday, September 3, 2011:
We will travel from Clifton to Glenwood NM, 62 miles with 4800 ft. of elevation gain. We will climb out of the Gila River Valley heading northeast on Hwy 78 through Mule Creek following the San Francisco River Valley into Glenwood. For those prepaid, there will be an all-you-can-eat, delicious meal for you. Call Polly Tipton the Double T Homestead (575-539-2812) for room reservations or Jeff at Los Olmos Ranch (1-888-539-2213, www.thelosolmosranch.com). We are providing valet service so you may hike The Catwalk, and/or go to the Sundial Hot Springs (There will be an optional shuttle from the road before Glenwood to the Hot Springs.)
Sunday, September 4, 2011
The Glenwood to Alpine, AZ. leg will be a 58-mile ride with 5346 ft. of elevation gain. Following complimentary coffee and tea at the Double T, a prepaid breakfast will be served at Alma's Grill 5 miles into the ride for those wanting a substantial buffet. Then, it's back on the bikes for a gradual climb through pine forests of New Mexico as you negotiate Saliz Pass and Luna Summit to the small town of Alpine, Az. at 8000 feet of elevation. A prepaid group dinner will be provided at the campground. Camping is still the MOST cost effective way to sleep.
Monday, September 5, 2011
Alpine to Clifton will encompass 96 miles with 6800 feet of elevation gain. Before you leave Alpine, be sure to refresh and refuel with breakfast at the campground for those prepaid. Pedal south on US 191 along the famous "Coronado Trail." When riders arrive at Hannigan's Meadow, they will be at an elevation of 9320 feet. As you will pedal back down to Clifton, watch for the Arrow Tree filled with bow hunting arrows, as well as the Big Horn Sheep on the mine tailings of Morenci.
Get more details on the GABA website.The price for the ride is $110 plus optional meals.
Have you done the ride? I'm thinking I might try to do it next year with Luci.