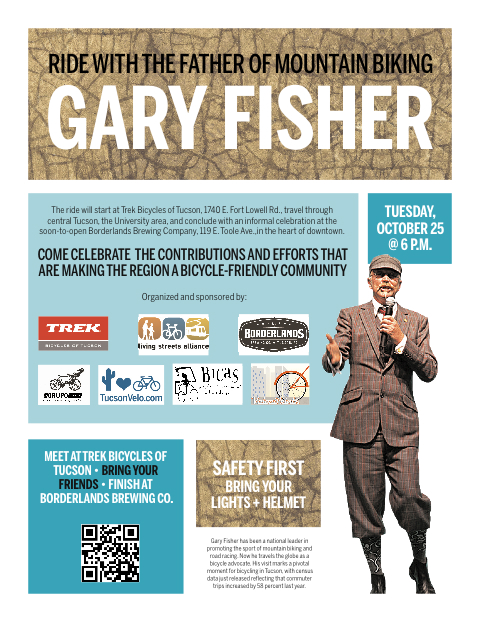 Since the post last week about the bike ride with mountain bike pioneer Gary Fisher, many of the details have been finalized.
The ride will leave at 6 p.m. from Trek Bicycles of Tucson at Campbell and Ft. Lowell on Tuesday, Oct. 25.
The ride will snake through midtown Tucson, highlighting some of the city's urban cycling features including the future Treat Bicycle Boulevard, Third Street and the basket and snake bridges.
The ride will end at Borderlands Brewing Co. for a sneak peak of the brewery (which isn't quite open) and a sneak peek of the Velociprint Show.
The ride is being organized by Duncan Benning, manager of Trek Bicycles of Tucson, in partnership with El Grupo Youth Cycling, VelociPrints, B.I.C.A.S., TucsonVelo.com, and Living Streets Alliance.  The event is free and open to the public, and all are invited and encouraged to attend. Lights are recommended.
Check out the event page here. Download the flyer here.