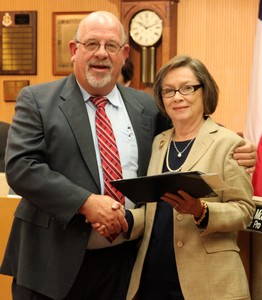 Tucson has a new transportation director, but only after rescinding an offer to Portland's head of transportation.
Daryl W. Cole, currently El Paso Texas' transportation director accepted the postion last week.
Michael Graham, the City of Tucson's public information officer, confirmed yesterday that the position was originally offered on contingency to Portland's transportation director Tom Miller.
Graham said the city reevaluated the situation and determined that Cole would be a better fit for the position.
Miller, a huge proponent of alternate transportation and separated bicycle infrastructure, was out of the office until July 23 and could not be reached for comment.
Cole, who has worked in El Paso's transportation department for the last 26 years, said he grew up in Chandler and loves the southwest.
Cole said he believes its important to build for all modes of transportation including bicycling and walking.
As for the streetcar, he said he didn't know enough to comment specifically on Tucson's streetcar, but in general streetcars are an economic benefit and can help move people through the city.
He said Tucson's pavement quality is about the same as a lot of cities in the country.
"There is no good pavement in the country," Cole said. "I don't care what city you are in, it is an investment issue. It sounds like we need to invest more. "
He said his first priority was to begin working with the people of Tucson to accomplish what they wanted done.
"I am the new guy and I need to learn," he said.
Cole said he was all about working with all the jurisdictions to make the system better for everyone.
"We are all in one system," Cols said. "If you are a user you don't care what jurisdiction you are in."
Up until Wednesday, Cole was in Tucson with his family looking for houses and driving around the city. He said they found a place on the east side of Tucson.
Cole said it has been a while since he's been on a bike, but said his wife said the first thing she was going to do when they moved was get a bike.
When it was announced that Tucson's former director Jim Glock, who biked to work every day, was retiring, bicycle advocates became concerned about replacing him with someone as bicycle-friendly as Glock.
Advocates would likely have been thrilled with the hiring of Miller, who has been pushing Portland to become even more transit and bicycle friendly.
BikePortland.org has reported that Miller believes separated bicycle infrastructure is the key to increasing the number of bicycle commuters beyond where Portland currently is.
It appears, however, that Miller's position in Portland may be a bit tenuous because of some questions about his ethics after he stayed at the beach home of a Portland real estate developer. BikePortland.org also reported that the two 2012 mayoral candidates, who appoint the director, would likely fire him if they were elected.
The story is worth a read. Of particular interest to alternate transportation advocates is what Miller said was the  Portland transportation department's mission, which is for the department, "to be an agency that does not prioritize auto access at the expense of everything else."
El Paso, where Cole is coming from, has started to attempt to make its region more bicycle friendly. The El Paso Times reported about a planning group that was hired in 2011 to help make the city more bicycle friendly. According to the article, the planners said the bicycle situation was "dire, but could be fixed."
According to 2010 U.S. Census data, El Paso has a bicycle commuter share of 0.1 percent. In 2012 The Alliance for Biking and Walking reported that El Paso was ranked no. 45 for the level of bike commuters. Tucson was ranked no. 8 and Portland was ranked no. 1.
Cole said he wasn't sure when he would officially start, but said it would be sometime before Sept. 1.
Ian Johnson, the chair of the Tucson-Pima County Bicycle Advisory Committee, sat on the transportation director citizen's selection committee. Johnson said he planned to invite Cole to a BAC meeting in October or November to start forming a relationship with Cole.
In addition to hiring a new transportation director, the city is hiring a deputy director who oversees alternative transportation modes including the streetcar and bicycle and pedestrian issues. Graham said he believed that would be in addition to a full-time bicycle and pedestrian program manager to fill Tom Thivener's vacant position.
Check out BikePortland.org's followup with information from Miller. We have a call into Miller's cellphone.