The portion of Fourth Avenue between University Boulevard and Sixth Street is reopening after more than three months of streetcar construction.
Before the construction started, there was concern among cyclists about how narrow the road would become with parked cars, through traffic and two sets of streetcar tracks.
The gates were pulled down on Friday and cyclists begin to get a sense of just how much room they would have.
In the photo above the truck is parked about eight inches off the curb. Between the truck and the track is a little under seven feet.
Accounting for a four-foot door zone, that realistically gives cyclists under three feet until the edge of the track.
Of course when a streetcar is running, it will stick out beyond the track. A streetcar official told the Tucson-Pima County Bicycle Advisory Committee several months ago that it would be about 18 inches beyond the rail.
That would leave cyclists a mere 18 inches with a streetcar on the track.
During the same BAC meeting, the streetcar team said the streetcar drivers would not attempt to pass cyclists in order to avoid the conflict.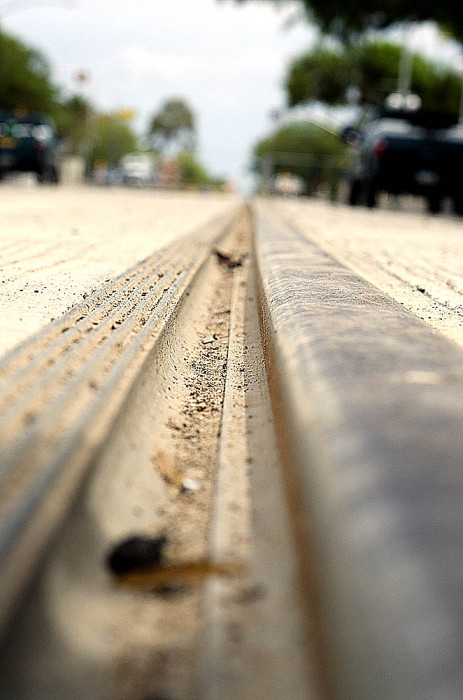 Additionally, the tracks are not flush with each other. You can see from the photo above that the inside part of the track is between one and two centimeters lower than the outside. The gap is still large enough to swallow many sized tires.