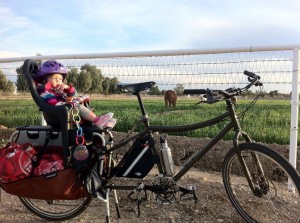 It all started with the words that make any crazy, bike-obsessed spouse jump for joy.
"I think I'd like an Xtracycle," Irene said.
Irene was lamenting the fact that she can't easily take Luci anywhere on a bike because, due to space limitations, her bike is hanging from the ceiling and Luci doesn't really care for the trailer we have — instead preferring the bike seat I attach to my Big Dummy.
I immediately jumped and said we'd get her one so she could tote Luci around, but it became clear the space issue was going to be a problem with having both cars in the garage. Storing it outside isn't an option.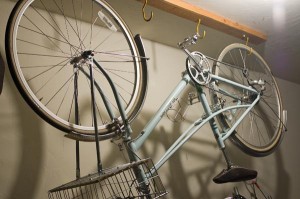 I broached the subject of selling our second car again. It's something I've been wanting to do for a long time, but Irene didn't think it was a good idea. She was probably right.
There were a few months where we lived with only one car before Luci was born. I loved it. Not that I ever pick a car over the bike, but it was oddly freeing to not have the option of taking a car.
We purchased a second car shortly before Luci was born. Because of where and when Irene works, bike commuting isn't really an option for her, which meant I'd be with a newborn and without a car for five nights a week — not really doable, especially not since riding with an infant isn't something I was comfortable with.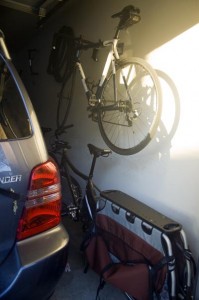 We started riding with Luci at 6 months old in a trailer with a "snuggler
," which makes the trailer act more like a car seat and supports their head and neck. At 9 months old she was in the bike seat with her purple ladybug helmet.
I've been lobbying to get rid of our car for a while, but Irene was hesitant to go through with it. Her point, which was valid, is that she didn't want it to be extra work and extra driving for her because I wanted to get rid of the car.
Last week when she said she wanted an Xtracycle to take Luci on bike rides we started talking again about getting rid of our second car. This time, though, she seemed interested. Now that Luci is older and a pro at riding bikes, Irene is working three days a week and I'm still biking everywhere it seemed like it was more plausible.
We started doing some research about what it would be like having a family, two jobs, one car and two utility bikes.
Here is what we discovered, why we decided to cut the cord and become a car-light family and how we plan to make it work:
Money: We realized we were making a car payment and paying insurance each month for a car that we drove once over two months. Selling the second car will save us hundreds of dollars a month.
Bikes: We already have one cargo bike, which is the Xtracycle-compatible Surly Big Dummy. We are going to add an Xtracycle Radish, which just started shipping yesterday. Both bikes will be able to accommodate the PeaPod LT bike seat, which Luci likes to ride in. I like it because Luci isn't right up against my back so she can see things a lot better.
The downside is that it is open to the elements. I'm investigating adding some sort of shade screen and rain protection. We also have a Burley trailer
which will protect Luci from the elements in a pinch.
Rental cars: A friend who is already living a car-light lifestyle with a family suggested I look into the price of a rental car. Several people who follow TucsonVelo on Facebook pointed me to a link for Enterprise Rental Cars that charges $9.99 per weekend day, which is when I would need to rent a car on occasion for going to bike races. There is a pickup location about 1.5 miles away from our house.
Car sharing: While Tucson doesn't have a Zipcar system, it does have Connect by Hertz. Connect is similar to Zipcar. You sign up for an account, they send you a card which allows you to unlock any number of cars located on the University of Arizona campus.
The rates range from $5 to $8 per hour depending on the account you sign up for. You are allowed 180 miles a day and gas is included in the hourly charge. There is a $62 cap on a 24 hour period. While this isn't particularly cost-effective it is convenient because I work at the University of Arizona. It isn't clear what the yearly membership cost is because there is currently a special for free membership.
Cabs: While it is the least cost-effective, in a pinch it is always an option.
Public transportation: I have little experience with the bus system in Tucson, but we are within (long) walking distance of a transit center. Combine that with Suntran's trip planner, the bus system could be a viable option.
Walking: We live within walking distance of several grocery stores, a mall and more.
Given the number of times that we need the second car and the various options listed above I think we'll have plenty of options to make living a car-light lifestyle completely possible. I know we'll enjoy the extra space in the garage and extra money in our pockets.
Do you have any tips you would like to add to help people who might be considering a car-free or car-light lifestyle? Leave a comment.
Anyone want to buy a car?