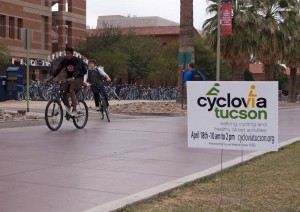 Cyclovia Tucson officials are hosting a meeting for volunteers tonight at Sky Bar and Brooklyn Pizza. The meeting starts at 5:30 p.m. and will include free pizza and a Cyclovia Tucson shirt for volunteers.
Ann Chanecka, who is one of the co coordinators for Cyclovia Tucson, said they need intersection volunteers.
Intersection volunteer shifts are from 9:30 a.m. – noon or 11:30 a.m. – 2 p.m. The idea is that you can volunteer and ride in the event.
More info here: http://www.cycloviatucson.org/volunteer-2/