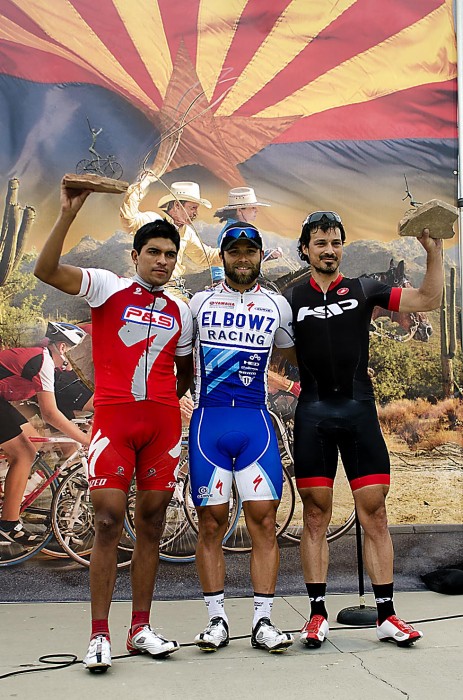 Scottsdale chiropractor, Eric Marcotte sprinted to this third El Tour de Tucson titles in as many years.
Marcotte edged out Rafael Escarcega in the final sprint after Escarcega stopped pedaling with about 200 meters to go.
"You know how you do a sprint and you can't pedal anymore," Marcotte said. "That is what happened. He literally stopped pedaling. He was so tired and I kept going and I came around him. I didn't quit. There was no quit in me. How is that for a quote?"
During the awards ceremony, Escarcega said he was pleased with the result despite confusion about where the finish line actually was.
Marcotte said the race broke apart from the very beginning.
"Usually you try to stay relaxed until the second wash," he said. "This year the first wash was not ridable so we had a group of about 18-20 get away right from the beginning."
Be the time they lead group made it to the second wash they were down to about 10 riders.
The lead group continued to dwindle until the bottom of the of Tangerine when the leaders got stopped by a train, which allowed the m to regroup.
At Rattlesnake Pass, third place rider, David Richter, attacked the group and shed one rider.
Marcotte said he attacked a few times on Silverbell Road until the group was down to three when they made the left onto 22nd Street.
"It came down to three of us," Marcotte said. On 22nd street, I put in one more dig in there and we shed the third place guy, Richter, so it was just myself and the guy from mexico trading pulls."
"Richter just looked really strong like a good sprinter and he didn't fade at all and I didn't want to go to the line one-on-one with him.
Marcotte said he was pleased to have won three in a row, but did not believe he would try to make four.
"I might come down to do it, but I don't have to prove anything," he said. "So many things have to go right and just as many things that have to go right can go wrong and being a chiropractor I have to really watch. A lot of times these events have people that are kind of riding above their skill level and and I've got to think about patients on Monday."
Editor's note: I didn't get to track down the female winner, but you should read the Arizona Daily Star's recap here.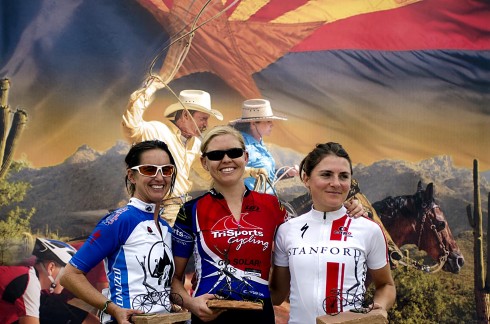 2012 El Tour de Tucson coverage: