An unhappy Sam Hughes Neighborhood resident and a vote by the neighborhood association prompted Tucson Parks and Recreation officials to remove the bike parking shelter installed at the Himmel Park Library in August.
Although the shelter is gone, a compromise was reached to keep the bike racks, which act as overflow bike parking for the Himmel Park Library.
According to Ed Stokes, a neighborhood association board member, the neighbor who lived closest to the park thought the shelter was an eyesore and wanted it removed.
Peg Weber, an administrator in the city's Parks and Recreation department, said the neighbor was upset because he could no longer see his grandchildren playing in the park.
Weber said she was told by the library director who has since retired that the neighborhood wanted the covered parking, but she said it became clear after the 9-3 vote on Oct. 19,  asking that the shelter be removed, that not everyone was on board.
According to Stokes, lack of communication may have contributed the board's vote.
"The neighbors were surprised," Stokes said. "It would have been nice to let us know. I am sure that didn't help."
Tom Thivener didn't find out that the shelter had been removed until last week but said he had heard some of the neighbors didn't like the shelter because they thought it was ugly.
"I guess racks are fine, but they don't want an old ugly bus shelter," Thivener said.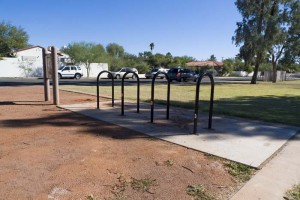 Weber said she liked the shelter and didn't believe it was ugly, but said it is important to work with the neighborhoods and ultimately bicyclists still got the extra parking for the library.
Thivener and Weber said they will begin looking for a new, useful place to put the shelter.
Stokes, who rides, said he liked the shelter and was happy to hear they wouldn't scrap the idea.
"I think it was a great idea," Stokes said. "Pam said she could find another place for it and it wasn't going to go in the landfill, so I don't think most of the people felt bad. "
If you have a recommendation about where to put the shelter, email Weber with your suggestions.