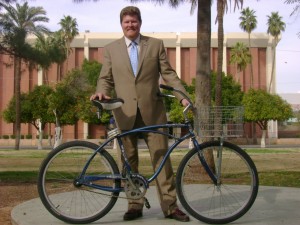 The bill introduced by Arizona State Representatives Doug Quelland and Daniel Patterson,  which would have allowed cyclists to treat stop signs like yield signs, is no longer being considered by the legislature.
Quelland's assistant Jeanae Vernon said the bill wasn't heard by the transportation committee.
"If they didn't hear it in committee then it is, so to speak, dead in the water," Vernon said.
Patterson, who represents Tucson said Andy Biggs, the chairman of the Transportation and Infrastructure committee, would not allow a hearing or vote on the bill.
"I don't think he is particularly pro-bike," Patterson said.
Patterson said the law would help cyclists around Arizona, but would be particularly useful to Tucson cyclists.
"It is particularly an issue in Tucson because Tucson Police continues to issue hundreds and hundreds of citations for frivolous stop-sign violations," Patterson said.  "The situation with police stopping and ticketing cyclists for stop sign violations is worse in Tucson than anywhere in the state by far."
Patterson said they will introduce the bill again next year, but need more help from the cycling community to get it pushed though.
"If cyclists want this there is going to have to be an organized campaign," Patterson said. "People are going to have to back us up."
Patterson said he thinks laws like this should be changed to help cyclists.
"There is a lot of lip service paid by politicians wanting to support people riding bikes," Patterson said. Everybody talks about,  'we need to reduce traffic, help air quality, help people be healthy and help them get out of their cars. Cyclists deserve some advantages and one of those would be safely yielding at stop signs."
Patterson is hopeful that next year the support will be there to get the law changed, but continued to stress the importance of support from the cycling community.
"If people want conditions to get better they are going to have to fight for it," Patterson said. "That is just the way it is."
You can still download the bill here.