Several local artists are creating art by incorporating bicycles into their projects.
Monique Laraway
• Why: Laraway says when she sold her car in 2003, bikes became an important part of her life.
"It has been a way of life for me," Laraway said. "Everywhere I go and with everything I do, I have my bike, so it is always on my mind."
• How she does it: Laraway says she first used bicycles in her art as drawings and screen printings, but has since started using bicycle parts to create her art. She said the term used for this type of art is "upcycling," which means the artist takes something old and preferably unusable for its original purpose and creates something new out of it.
"From trash to treasure," Laraway said.
• Where to find it: You can check out Laraway's bike art at her etsy shop.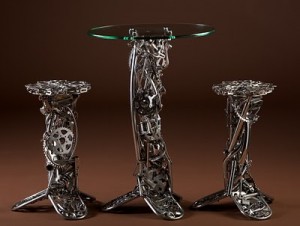 Kenneth Armstrong
• Why: Armstrong says he was really more of a musician before he started hanging around BICAS years ago, but members of the BICAS staff encouraged him to start making bicycle art.
• How he does it: "The more I learned about welding the more inspiring it became," Armstrong says. "I just see parts now and I have ideas about what I can shape them into."
• Where to find it: Some of Armstrong's pieces include tables made from various bike parts, which are on display at Cafe Lucce at Park and University.
On Thursday, he'll have an exhibit there, which will include his newest pieces. Armstrong said they were formerly Pier 1 rattan chairs, but now are bicycle chairs. The legs are made from cranks and have u locks wrapped around them.
Check out his blog to see some of the pieces he has done and join him for his exhibit at Cafe Lucce, Thursday night from 5 p.m. to 9 p.m.
Other bike-themed artists to check out:
BICAS is seeking bike art to include in their upcoming art auction fundraiser, which will be held on Sunday, December 5. More details about the call to artists here.
Know of someone making bicycle art who isn't listed? Leave a comment with a link and we'll add them.